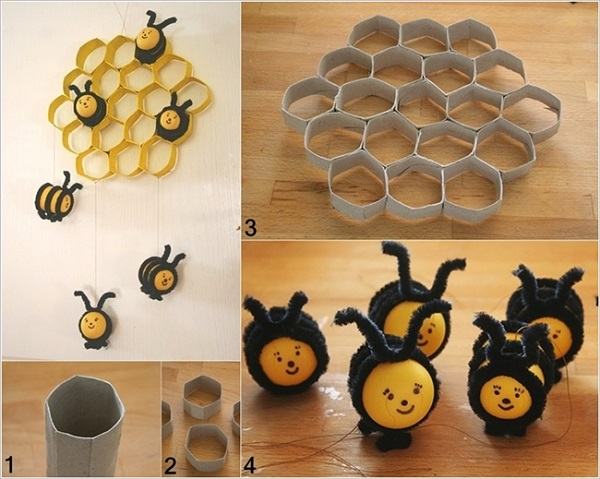 If you want to make your kid's room look more colorful and fun, then try this next idea that will teach you how to make a cute decoration. It is a beehive that can be mounted on the wall and will instantly cheer up the whole room. It is simple to make and it won't cost you a lot of money as the basic materials you probably already have stored somewhere in a drawer. Here is what you will need:
• toilet paper rolls;
• Kinder Surprise eggs;
• black pipe cleaners;
• hot glue gun;
• yellow spray paint;
• crafting wire (thin);
• black marker;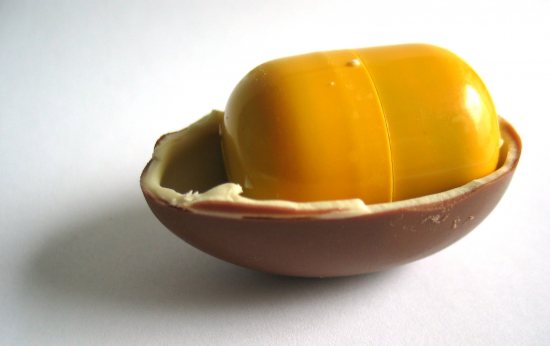 Cut the rolls as shown in the picture, making small rings out of them. Open the cardboard and fold it to get hexagonal shapes. Secure with glue. When you have the number of hexagons that you want, start and glue them together, side by side to get the beehive. At the end, paint the whole beehive yellow. To make the bees, roll the pipe cleaners around the Kinder Surprise eggs and fix then with the help of the hot glue gun. Don't forget about the antennas and the legs of the little bees. Make their faces with the black marker. Take the thin wire and tie it around the top part of each bee. Tie the bees to the beehive and you are done. Find a place to hang the decoration in your children's room and share this project idea with your friends too!
source: kiflieslevendula.blogspot.com