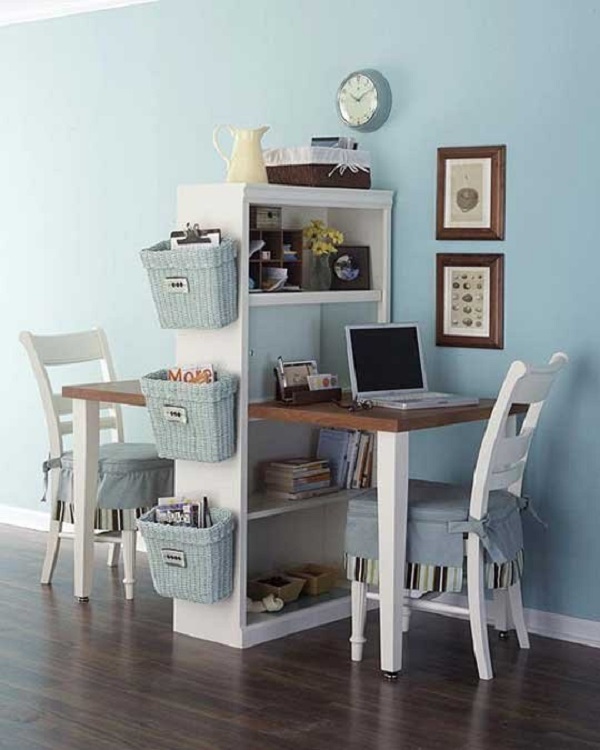 More than often, your residence undergoes some changes from year to year. Home design can be transformed into something more appropriate to the inhabitants' needs and preferences. This process is especially important when you're about to discard some furniture or decorations and replace them with newer ones. Asses your situation and if you happen to need an ideal space for homework or office work, turn an ordinary table and bookcase into a compact and functional double desk space. For this, you will need:
• a medium-size table;
• a medium-size bookcase;
• some basket containers;
• a saw;
• wood glue;
• nails and hammer;
• string;
• (optional) blackboard;
Suitable in the first place for young adults, a table sawn in half could be just the thing for those who strive for top grades and great results. The design is quite ingenious, because you don't need much assembly. Only attach the halves of the table onto each side of a bookcase; make sure their height match. One side of the bookcase is now a fully functional office area, while the other (back of the bookcase) can be decorated with an blackboard and used for messy kind of works; like art or craft. In a matter of a day you will end up with an office, perfectly engineered to make your kid (or you) concentrate on your work. Decorate even further by sticking some basket containers, with the help of nails and string, on what is now the side of your bookcase. Congratulations!