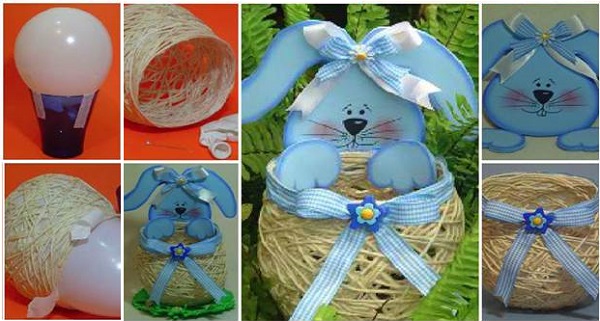 If you're not sure about how to improve the interior design of your home for a festive occasion, you ought to start with some smaller pieces of decorations. Just try to fashion this adorable DIY Easter Basket out of Yarn String. It will look perfect on a counter, filled with sweets or eggs. In order to complete this project, make sure you have the following list of materials and follow the instructions below:
• a balloon;
• a medium size vase;
• some yarn;
• glue;
• water;
• brush;
• blue cardboard;
• a pair of scissors;
• blue ribbon;
• colored pencil;
• marker;

Blow out the balloon to the size you want your basket to be. Place it on the vase and begin putting the string of yarn through a bowl of glue and water mixture before attaching it to the surface of the balloon. Use a brush to dip in the mixture and onto the string after it's onto the balloon. Leave the yarn to harden for a couple of hours or overnight. Pop the balloon with a needle and turn the basket of yarn upside down. Cut the cardboard into the shape of a bunny's head and paws. Draw the eyes, nose and whiskers on it. Stick the head onto the back of the yarn-basket and the paws inside. Check the photo to see if your project fits. Then, tie some blue ribbon bow around the basket. Glue one onto the head of the bunny as well. Done!