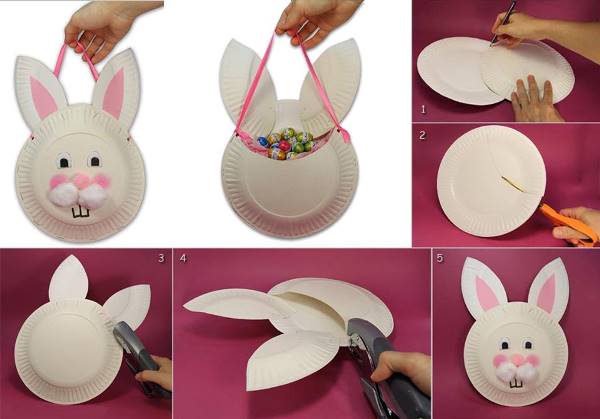 Spring has come and Easter is just around the corner. So you better be prepared to decorate accordingly. Take this creative project of a bunny candy bag made out of plastic plates. It is quite easy to do and fun to involve your kids as well. Grab these materials to get started with:
• 3 plastic plates;
• a pair of scissors;
• a stapler;
• a piece of pink ribbon;
• a perforator;
• a pink marker or pencil;
• candies;
Cut a semi-circle out of one of the plates. Continue to use the scissors for fashioning a pair of bunny ear-shapes. Color them with pink to give each a much cuter look. Then, color the remaining intact plate as you would like the bunny to look like. Now, staple the ears onto the back of the face-plate and the first cut plate with the face of your bunny.
It's time to attach the ribbon. Punch holes on the face-plate, beneath the ears. Go the string of ribbon through these holes and knot the ends. Finally, fill your DIY bunny candy bag with (what else?) candy and make a kid's day happier.