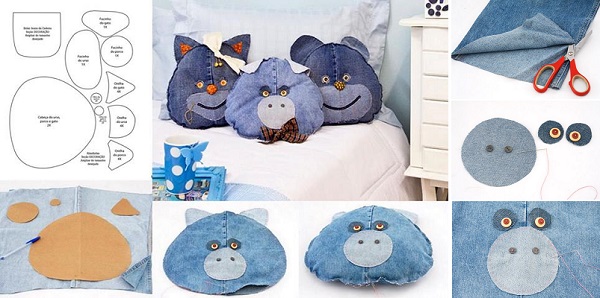 As you already know, an old pair of jeans can always be recycled and used in a new project. Of the several pairs of jeans that you most certainly have at home, one can be used to make this cute teddy pillow. The great thing about this material is it's resistance and that it can be easily washed if it gets dirty. This cute little pillow will be perfect for any child's room. To make the pillow, you will need:
• the pattern that can be found below;
• cardboard;
• an old pair of jeans;
• a pair of scissors;
• sewing machine;
• buttons;
• needle and thread;
• ribbon;
• batting;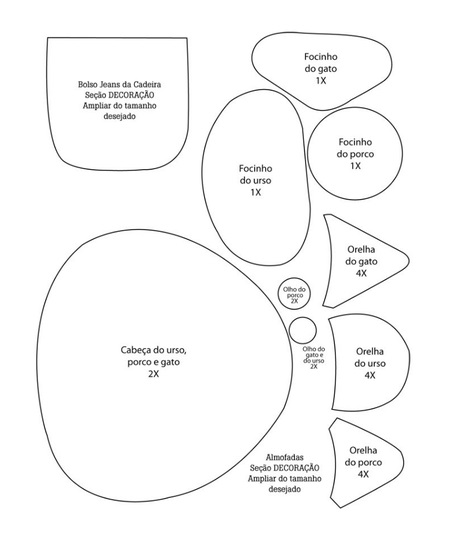 Take the old pair of jeans and wash them if necessary. Then cut off the legs and cut them in half as shown in the picture. Print the pattern and cut out the elements of the pillow. Transfer the pieces of the element on a cardboard by tracing their outline and cut them out one by one. Place the pieces of cardboard on the jeans and cut out the head, the ears, the nose and the eyes. Sew the eyes and the buttons to the head and the nose too. Sew the ears and attach them to the head of the teddy. Then start making the pillow by sewing it all around the edges and leaving space to fill with batting. Fill the pillow with batting and sew the remaining hole. Decorate the pillow with the ribbon by making a bow out of it. Pretty simple and sweet and your child will have a new pillow that is also a toy.