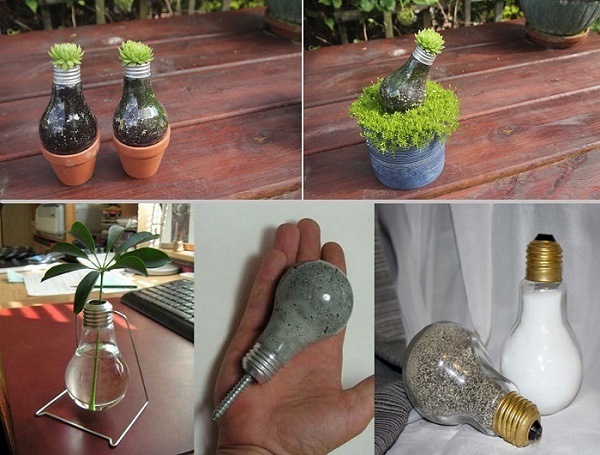 Light bulbs and gardening usually don't go together in people's minds. But they can! And the result is more than often quite impressing to any garden design. You can easily convert an unused light bulb into a great planter, either for your outdoor plants or for indoor flowers that improve the decor of your office desk. To make this simple DIY project, here is what you need to have and do:
• light bulb;
• a pair of gloves;
• safety goggles;
• a cutter;
• a screwdriver;
• pliers;
• soil;
• small pot;
Take the cutter and use it on the bottom of the light bulb, peeling off the light color material. Remove it completely with the help of some pliers. Next, break the insulation glass inside the bulb. It doesn't need a large amount of pressure. Just make sure you are careful with the pieces which will come out the light bulb. Now, there is another layer of glass which goes right to the filament.
Repeat the step from before, applying a little bit more pressure. Remember you shouldn't squeeze the bulb in your hand too much. Use a pencil instead of a screwdriver if the glass doesn't seem to shatter very lightly. Stick it in there and wiggle it back and forth until you get the desired result. Then take the pliers and remove all of the contents from within. You might want to wash it a bit to be sure it's all glass-free on the inside.
The rest is very simple. Fill the bulb with soil and place a small plant in it. You might find a pot of the same size like the bulb. Or you can put it on another DIY planter. Find what solution suits your home and lifestyle.