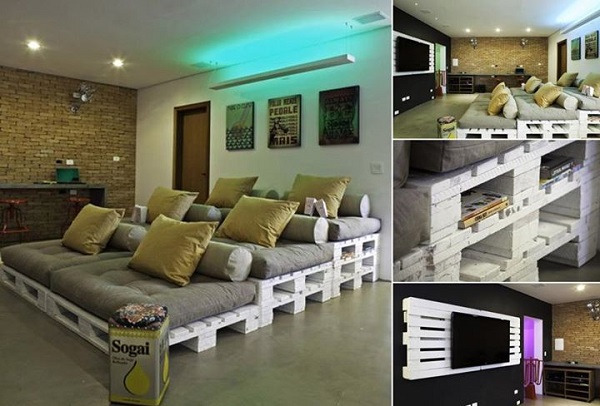 Pallets, over and over again! We're sure you think you've heard everything there is to hear about using pallets in your redecorating projects. But keep an open mind when it comes to the DIY world. Today, we will show you a very creative and entertaining project to implement in your own home: the pallet movie theater. This wonderful idea was inspired from the luxurious residences which have a room furbished and designed just for watching movies with friends and family. Watch how great a pallet improved interior design looks like and feel encouraged to implement in your home. Here is what you need:
• pallets;
• sander;
• drill and screws;
• white paint;
• a lot of cushions and fabric covered mattresses;
Start with lightly sanding and then painting the pallets in white. Make the `screen1 part of your movie theater by placing two of the pallets on the wall. Put the rest of the pallets on top of each other in the following pattern: 6 in the first layer, 4 on the second, and 2 on the last upper layer. You want to place them in a (half) stepped pyramid shape. Screw each piece to the rest in order to make a big and secure piece of furniture. Place the cushions and mattresses, attach the flat screen on the pallets from the wall, and enjoy your movie!