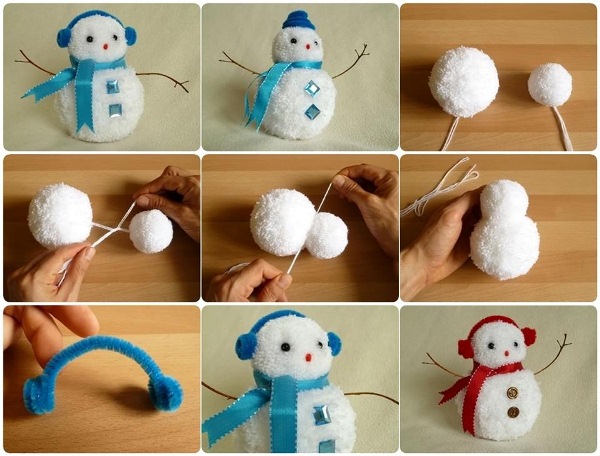 Around Christmas time, the best way you can have fun with your friends or family is to include them in some decorating activities. And you can double that fun by making your own decorations. This snowman made out of pom-poms is an easy project that will give you the cutest decoration in the neighborhood. First of all, make sure you have:
• white or cream colored yarn;
• a pair of scissors;
• craft glue (or hot glue gun);
• twigs from trees;
• ribbon or some buttons (or beads);
• pipe cleaning brushes;
Then, start the process of making the snowman, by fashioning two pom-poms of 9 cm (3.5″) and 6 cm (2.5″) in diameter. Tie them both together with their loose ends in a simple but tighten knot. You can act safer and tie a second knot. When finished with this, cut off the spare yarn.
Afterwards, using a pipe cleaning brush you will make a cute accessory. Roll up the ends of the brush and then bend it into a u-shape pair of ear-muffs. Or coil it up on itself for shaping a hat.
Make the arms by gluing twigs you can find lying on the ground outside, to the body of your little snowman. Use the glue further to put on eyes and a nose, with buttons or beads, onto the smaller `head` pom-pom. Fashion the piece of ribbon you have into a little scarf. Let your imagination free and decorate your unique snowman. Have fun!
Source: Handmade Karácsony