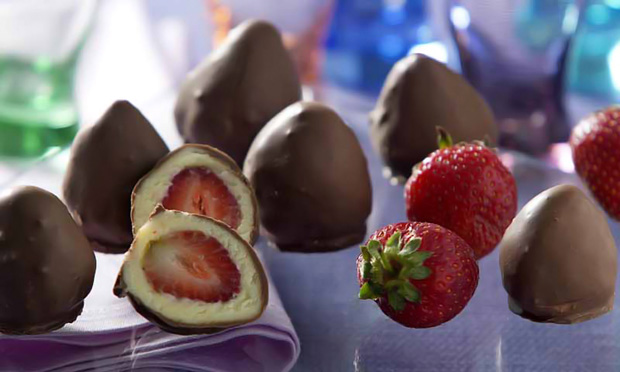 Dessert-making can be a tricky job, especially if you don't know the eating preferences of your guests. You might spend hours in preparing an intricate vanilla cake but nobody will want to have a bite. That's why a Gourmet version of a dessert is always more appropriate and ready for pleasing every taste. In about half an hour or more, you too can make a bowl of these delicious snack-bite Strawberry Candies. Here is what you'll need for this DIY recipe:
• a can of condensed milk;
• two hundred grams of skimmed milk powder;
• three hundred grams of milk chocolate;
• one hundred grams of strawberries;
Of course, the strawberries you use will have to be washed and leaves-free. While you leave them to completely dry excess water, mix the powdered milk with the condensed one in a medium-size bowl. Keep on stirring until you get a soft dough. Use your hands further on to flatten this dough and turn it into strawberry-size cookies. Completely wrap each strawberry in it and let it settle for 15 minutes. Turn on the stove and melt the milk chocolate like the instructions on the pack tell you to. Take a fork and dip each candy in it and place all on a tray which you then refrigerate. Your dessert is now ready for serving!