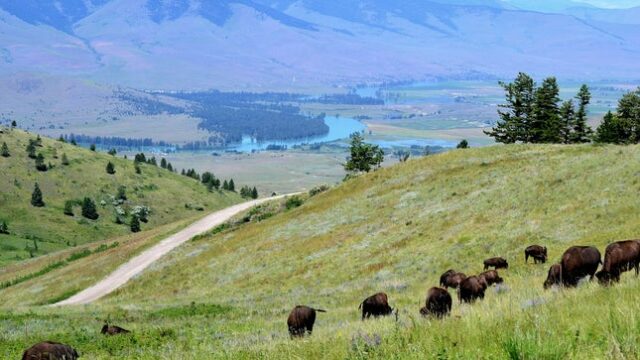 The National Bison Range was transferred to tribal leadership.
Story at a glance
The DOI announced the transfer of the National Bison Range to the Confederated Salish and Kootenai Tribes.
The land already sits within a Native American reservation.
The DOI has undergone multiple land transfer programs to return land to Indigenous communities.
The U.S. Department of Interior announced the restoration of more than 18,800 acres of land, known as the National Bison Range, so it can be returned to Indigenous tribes in Montana.
The transfer will be issued from the Interior to the Bureau of Indian Affairs (BIA), specifically to be held for the Confederated Salish and Kootenai Tribes (CSKT) of the Flathead Reservation in Montana.
The lands were already within the bounds of the CSKT reservation prior to being officially transferred.
The National Bison Range (NBR) was established in 1908 to protect the American Bison from extinction following the desecration of the species in the centuries before — driven by American settlers and systematic hunting. It marked the first time Congress allocated tax funding to buy land for the single mission of preserving wildlife.
In an important move to restore Tribal homelands, the Department of the Interiorannounced the transfer of all lands comprising the National Bison Range (NBR), approximately 18,800.22 acres, to the Bureau of Indian Affairs (BIA) to be held in trust for the Confederated Salish and Kootenai Tribes (CSKT) of the Flathead Reservation in Montana. The lands, which are completely within the boundaries of the reservation, were transferred to the Bureau from the U.S. Fish and Wildlife Service (USFWS).

"The establishment of the National Bison Range was an historic use of lands to preserve wildlife, but we must also acknowledge that this act reduced the Salish and Kootenai peoples' homeland by thousands of acres," said Principal Deputy Assistant Secretary – Indian Affairs Bryan Newland. "The return of these lands back to the Confederated Salish and Kootenai Tribes is truly a significant milestone in their relationship with the Interior Department and the United States."

"Today's announcement marks the official return of the Bison Range lands and resources to the Confederated Salish and Kootenai Tribes," said Martha Williams, U.S. Fish and Wildlife Service Principal Deputy Director. "The CSKT is a leader in conservation of natural resources throughout Montana, and the Service looks forward to continuing to work together to conserve wildlife and wild places throughout the state."
source: U.S. Department of the Interior, thehill.com