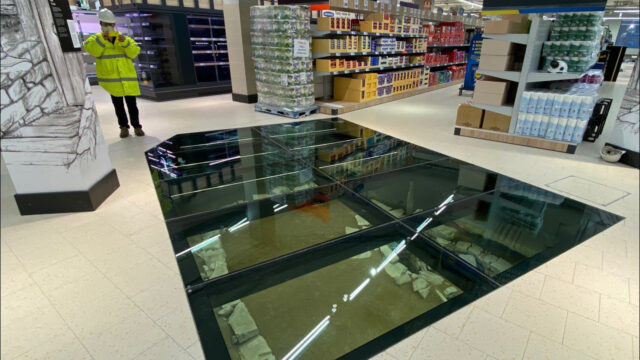 There are so many examples of finding important artifacts in crowded city centers, and ingenious ways in which architects incorporated them into everyday life.
Recently, a Lidl store in Dublin, Ireland did the same thing after archaeologists discovered a 1000-year-old artifact on the construction site. The remaining pieces of an old Hiberno-Norse Dubliners home, the ancestors of Vikings, have been left in the same place and were covered with a glass floor. This way, the structure of the store encapsulates the historic elements and shoppers can explore local history while shopping.
This is such an amazing example of how architecture can find clever solutions in changing times, as probably excavating and moving the pieces somewhere else would have damaged them.
By deciding to install glass flooring, people are encouraged to look around them, learn more about the history of this site, and transform their shopping experience into an educational one.