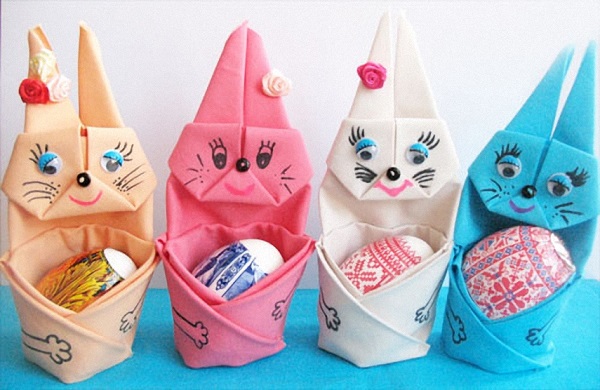 If your Easter table isn't quite how you wanted it to look for this year's festivities, get ready to impress your guests with this awesome DIY project. Make sure the traditional eggs served on this day aren't simply placed on a plate or in a basket, but in a cute Bunny made out of folded napkin. Here is what you'll need to make this happen:
• a few square napkins;
• a marker;
• some eggs;
• (optional) small beads;
First, position the napkin square in a diamond way. Then, fold it in half in order to obtain a triangle with the point facing down. Take the two other points (corners) and fold them together onto the angle facing down. Next, grab the open end and put it over the closed end of your new diamond shape. Don't celebrate just yet, because there are some 13 further steps you have to take in order to complete the project. Follow the picture tutorial and you will soon make it through the origami instructions. When all folding is done, take a marker and draw the paws, whiskers and mouth. Use a couple of beads and glue them to the napkin in order to mimic the eyes and nose of your bunny. Finally, put the egg gently in the `arms` of your DIY cute rabbit. You could take your project one step further and decorate with some small fabric flowers attached to the ears of your bunny. Wonderful!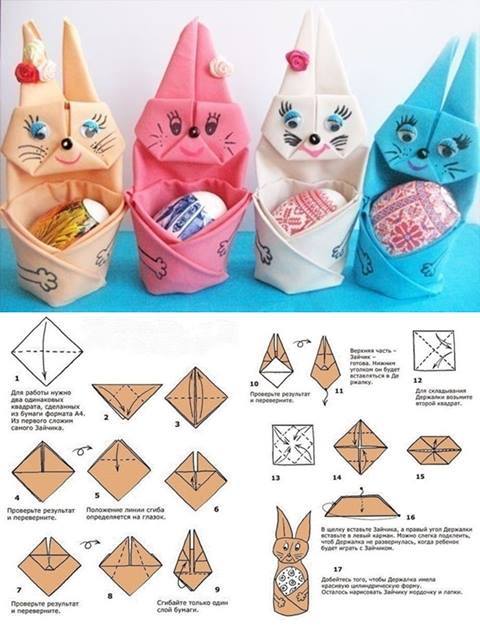 source: karapysik.ru