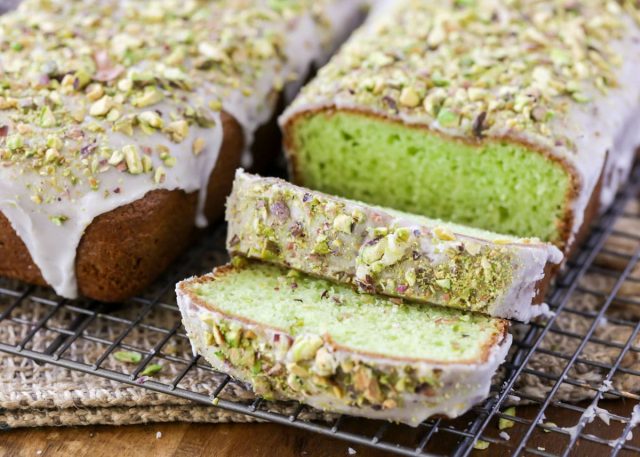 This pistachio bread is a delicious treat for this Summer! Pistachios are such a great and healthy snack but combining them with something sweet can make it even better.
The recipe is quite easy, and it won't take a lot of time to prepare it, so you can quickly make it even on a lazy Sunday morning. To prepare it you are going to use a cake mix so the recipe could also be renamed Pistachio cake and will crush the fresh pistachios on top at the end.
The ingredients needed are one box of cake mix, two boxes of pistachio instant pudding mix, four eggs, 1/4 cup of vegetable oil, 1/8 cup of water, and one cup of sour cream.
To make the glaze you are going to use two cups of powdered sugar, two tablespoons of melted butter, one teaspoon of almond extract, and one teaspoon of vanilla. You can even add 1-2 tablespoons of milk if you wish. Mix the ingredients of the glaze and drizzle over the cool bread, then sprinkle with chopped pistachios. Such a delightful dessert!
All ingredients and directions and other delicious recipes are shered by Kristyn on her LilLuna blog.