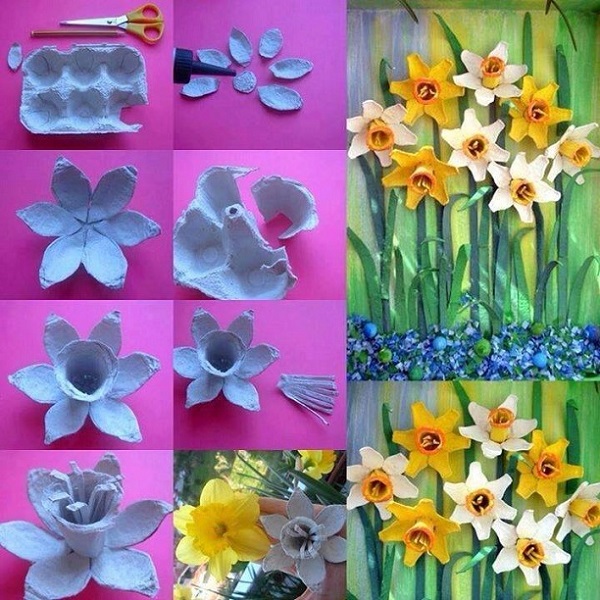 Many say nature is hard to copy. But DIY enthusiasts prove this statement to be wrong, with every passing day. Here is a bold example of how to make an impressive bouquet of daffodils out of a simple egg carton. For this, you will need:
a simple egg carton;
a pair of scissors;
some glue;
a pencil;
yellow and orange paint and brush;
The steps required for transforming an empty and plain egg carton into a beautiful daffodil are quite simple, but not simplistic. The first thing to do is cutting `petals` out of the carton. This step will probably consume 2 or 3 egg-slots. Next, glue them on a small round piece of carton. The intricate part will involve cutting half of a slot, just like in the picture and gluing it with another piece exactly like it. The result should be a nice piece of bulb. Additionally, carve out some strips from the carton which should act like the stems.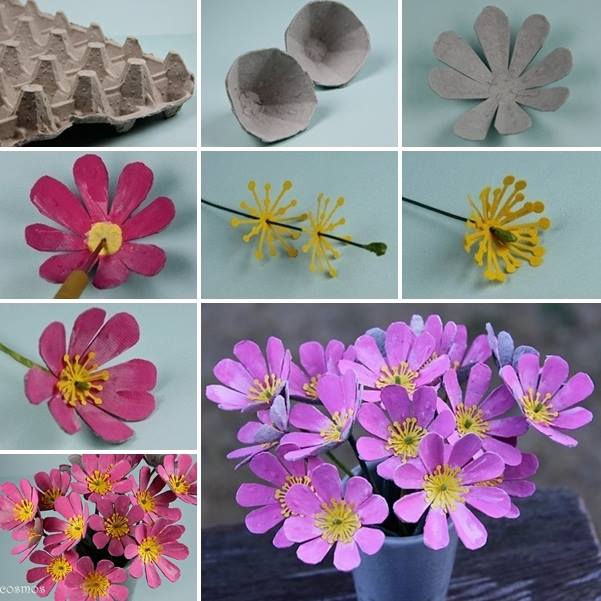 Now is the proper time to paint all of the pieces of your daffodil. Because the final step is assembling (gluing) the bulb onto the flower and the stems in the bulb.  Finish by attaching the bouquet of DIY flowers on a piece of canvas. You end up with a `natural` painting which can improve your home design in a way that only mimicking Mother Nature can.
source: rosijofarecon.blogspot.com