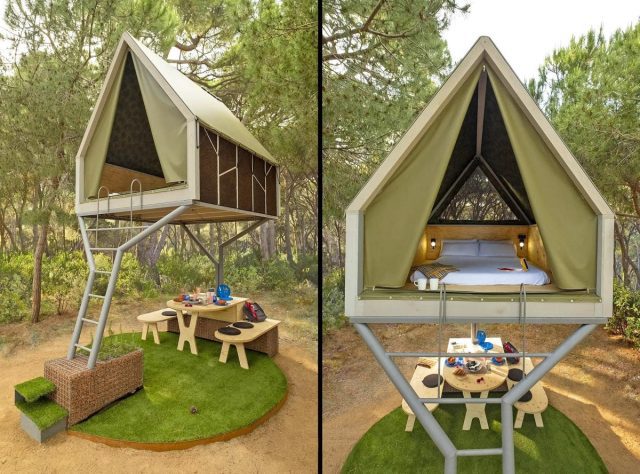 Camping is not for everyone, but what about glamping? Glamping is the new concept of taking your camping experience to a glam level, by also having the comfort you would have in an Airbnb or hotel room.
But if you want the ultimate experience, you can choose the Pinea Suite which is made by the Barcelona-based company called Pinea. The Pinea Suite is an elevated mini cabin with a covered area for outdoor dining. The mini cabin is the brainchild of ERA Architecture, and it merges the concept of a treehouse with the one of a modern cabin in the woods.
The design studio wanted to integrate the cabin into its surroundings as much as possible without intervention, and by keeping a clean and minimalist style. The three models are, a basic one, sitting on the ground, an elevated model and a premium model with all sorts of design enhancements.
The premium model comes with cork insulation and outdoor flooring which mimics the texture of grass, but also some solar-powered lights.
So, if you're ever in Barcelona, go find the Pinea Suite located outside of the city and have the ultimate glam camping experience under the starry night of Catalunya.