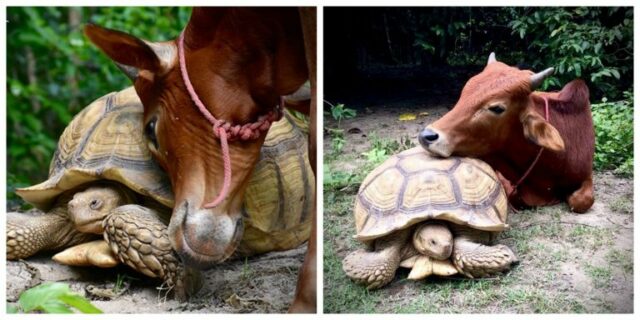 True friendship really exist, even among animals and this baby cow and its tortoise best friend will surely make your heart melt.
The unlikely friendship among Leonardo the tortoise and a calf named Sam started in 2013 when Leonardo had been rescued by the WFFT Rescue Center from a Bangkok zoo.
In 2016, Simon was brought to the center after a leg injury which left the tiny calf with a prosthetic leg. The WFFT Rescue Center has a large open field enclosure which became Simon's new temporary home and it is also the place where he met his new friend, Leonardo.
The employees from WFFT were very surprised to find out that Simon formed a strong bond with Leonardo, as this is such an unusual friendship. They observed them resting together on several occasions, sharing their meals and following each other everywhere. Take a look at the pictures to learn more about this adorable friendship, they do indeed speak for themselves.