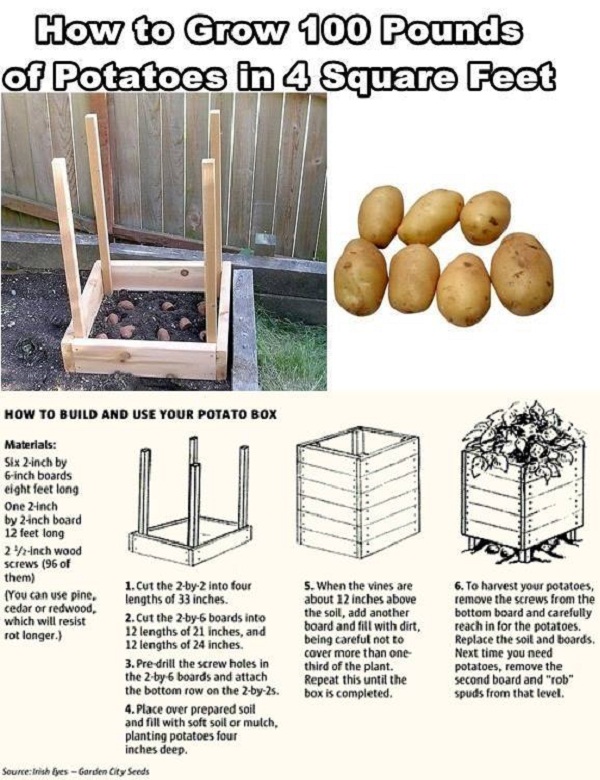 Every time when you think of gardening you are also struck by the fact it requires space? You shouldn't be! With all these DIY solutions out there, having your own garden in the balcony is very simple. One way to accomplish this is through the vertical handmade small garden suitable for growing 100 pounds of potatoes. You will need:
6 pieces of 2×6″ boards of 8 ft long;
one piece of 2×2″ board of 12 ft long;
96 pieces of 2 and 1/2″ wood screws;
The first step is cutting the 2×2 inches board into pieces of 33 inches in length; four pieces will be enough. Then, take the 2×6 boards and cut those into 12 lengths of 21inches and 12 lengths of 24 inches. Make some screw holes in these and attach the bottom row on the 2×2 boards. Place this part of the vertical garden over the soil, fill with mulch and plant potatoes about 4 inches deep. Remember that each layer which you plant must have its sides boarded up. Now, let them grow a bit.
When the vines reach some 12 inches above the soil, it's time to add another set of boards and fill the space with dirt. Make sure you don't cover more than a third of the plant. Do the same for each layer until you finish the box. In order to harvest your potatoes, take out the screws from the bottom board. With your hands reach in the box and grab your potatoes. Replace boards and soil and the layer is good to go again. After the necessary time, remove the second board and have yourself a handful of potatoes. Read some more off the internet about planting potatoes to make sure you do it right.
source: tipnut.com