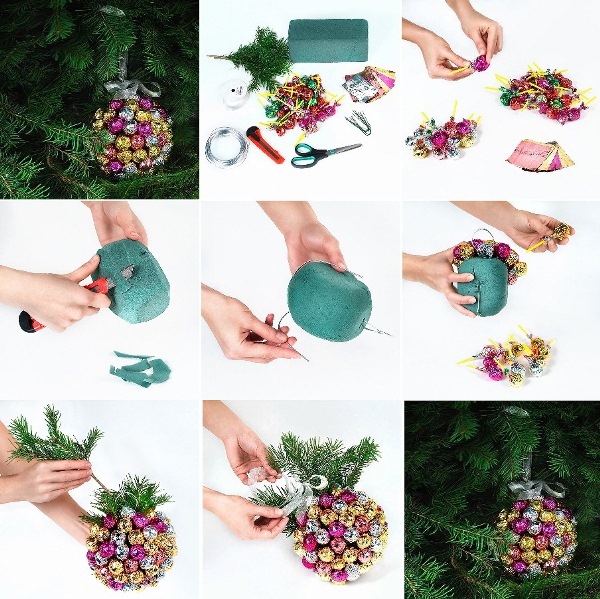 When you are through with reading this tutorial, you will be able to make a Christmas toy or decoration with your own two hands. We all want to decorate for the holidays in the most extraordinary way possible. With this very original Christmas decoration, you turn an ordinary piece of foam and some Chupa Chups lollipops into a nice looking decoration.
You will need:
• colored foil;
• floral wire;
• aluminum wire;
• needles;
• decorative ribbon;
• Chupa Chups lollipops;
• piece of foam or a sponge;
• some tree twigs;
• a pair of scissors;
• a cutter;
The first step is to decorate the lollipops with some candy colored foil in order to give it a truly festive look. Then, cut out your piece of foam into a round shape ball. If you don't have foam, you can use a sponge instead. Be careful it's the kind that doesn't soak much water.
Make a loop with the wire and insert it into the ball so you can hang it in the tree afterwards. Decorate the ball with Chupa Chups lollipops by sticking them gently into the foam. Decorate the top part of the ball with needles. After you've done this, you can put lollipops all around, covering with some tree twigs as well, if you like. In this manner, we get a wonderful decoration. Tie a decorative ribbon from the top needle and you can now hang on the Christmas tree. Your original Christmas decoration is ready!
For those who have Pinterest –>> >> "pin it" here <<