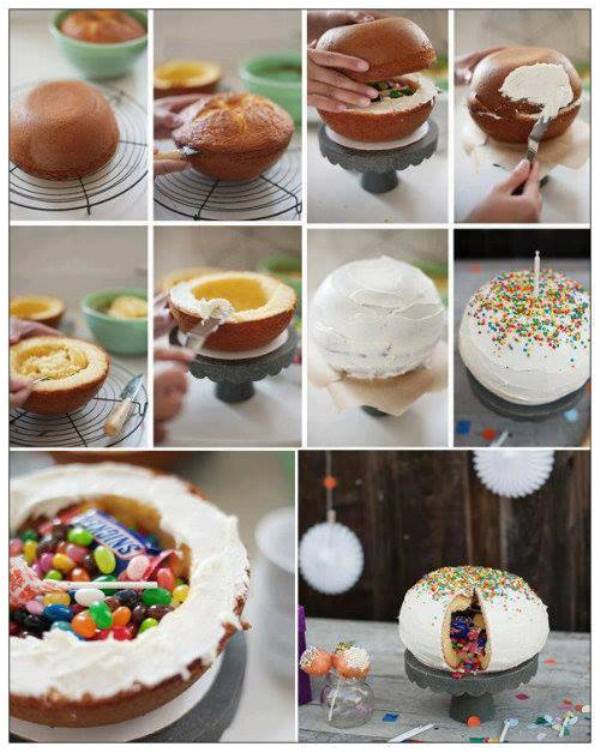 This cake is so much fun to make and so delicious that you'll wish there was a birthday party every week so you can bake it. Everyone likes pinatas at birthday parties, so why not make a pinata cake for the next special occasion.
Just follow our steps and you'll have your very own pinata cake.
You will need two boxes of cake mix, two containers of frosting, some small candies such as M&Ms, jelly beans, small sized chocolate bars etc., and a spatula. Follow the directions on the box and make the cake mix, divide batter in two balls into equal parts and bake the cakes at 350 degrees for 45 minutes. Remove the cakes from the oven and let them cool. Take a knife and cut evenly all around the top of the cake to remove the dome. Do the same with the other cake. Lay a cake with the exposed side up (the side in which the dome has been removed). Using a knife, make an outline of a smaller circle within the cake, leaving about 2-3 inches from the edges. Gently scoop out the inside with a spoon, going down a few inches. Be careful not to puncture the cake on the sides or bottom. Place the crumbled cake pieces in a separate bowl and save (they can be used to make cake pops later). Repeat with other cake.

Put one of the cakes on a cake plate with the hollowed out center facing up. Place frosting to the edge of the cake all around, this will allow the other piece of cake to stick when placed on top. Fill the hole with the candies. When done, carefully place the other cake on top of the candy-filled cake, making sure to line up the edges. With a spatula, apply a thin coat of frosting to the cake. This initial frosting will help you make sure that the cakes stick to each other. Put the cake into the fridge for 15 minutes. Take out the cake from the fridge and apply a second coat of frosting then decorate as you please. When you'll make the first cut, the candies will be revealed. After that you will need to slice the cake, otherwise it will fall apart. Have a great party!