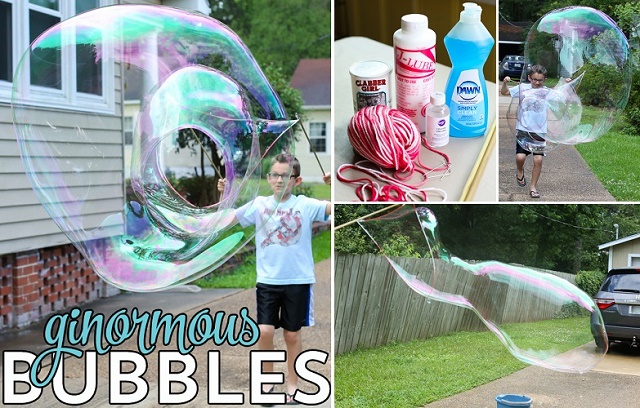 Are you or your kids bored? Technology doesn't seem to be as exciting as the first time you or they have experienced it, so you want to turn to some outdoor activities? Don't waste your time with hide and go seek and definitely forget about the bubble guns. Take it to a whole new level with this impressive tutorial on how to make ginormous bubbles with ordinary things from your home. The giant bubbles of water you can make with the device featured in the pictures and the tutorial are going to leave little ones speechless and achieve the status of the most fun activity you could do in a warm day. Also, the sight of these bubbles could make grown-ups join the play. And it only takes a couple wooden dowels, some baking powder and cotton yarn. Check out the instructions and have fun!
Ginormous Bubbles – Instructons by Our Best Bites..
Also here's a video tutorial about how to make giant bubbles .. Enjoy!!!