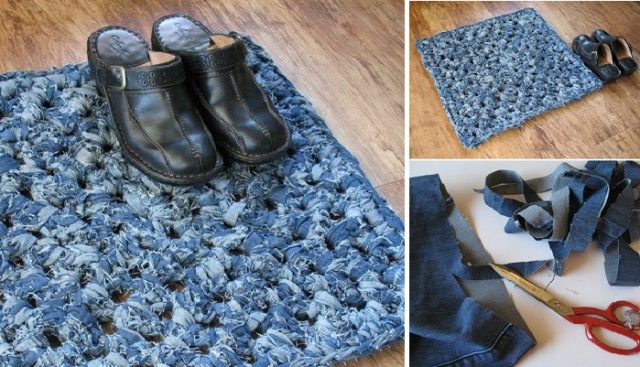 Clothes tend to go out of style very quickly and this can leave you with a bunch of things that you just don't wear anymore. But if you don't want to throw them out or give them to someone, then you can always transform them into something new. If you have lots of old jeans, you could use five of them to make this cool jeans bath mat for your home. Your bathroom will not only look hip, but you will also recycle old stuff from your wardrobe and save some space for new pieces. To make the bath mat you are going to need: five pairs of denim jeans, a pair of scissors and a size 15mm crochet hook. The hardest part will be the one where you start cutting your jeans in a spiral until you are only left with the top part. Then comes the part that requires patience, crocheting the jeans-yarn into a square-shaped bath mat.
To learn more about the steps of this project, head to the link below. Gillian explain on his blog all details of how he create this bath mat made out of jeans. Also he have a store where sells amazing handmade items.
You'll need:
5 pairs of denim jeans
scissors

Starting with the jeans – Use scissors to cut the hem off the bottom of each leg, then cut up the leg in a spiral till you reached the crotch, cut off this piece from the jeans, Roll into ball.
You don't have to worry too much about how straight your cutting is, just do your best to keep it a similar width so that your granny square stays neat and square.
More details here…