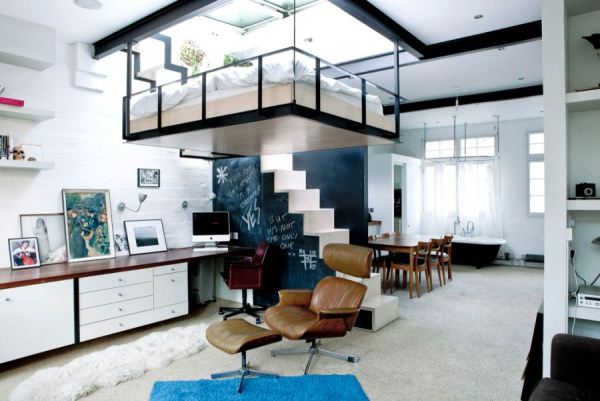 Big cities are home to exceptional residences. Due to the limitation of space to build, the creativity of architects is booming. They come up with all kind of projects and creative solutions to the lack of space and the need for modern design. This stylish apartment in London is a perfect example of just that: ergonomics and contemporary interior.
When you walk in the rather small home, you are instantly amazed by the hanging bedroom. More of a bed than a room, the designers showed much ingenuity when they decided to suspend a king size mattress on a steel board over the living area. With the clever use of a narrow staircase to the rooftop and a glass panel in the ceiling, they gave the much needed feeling of space when you climb (literally!) up in bed.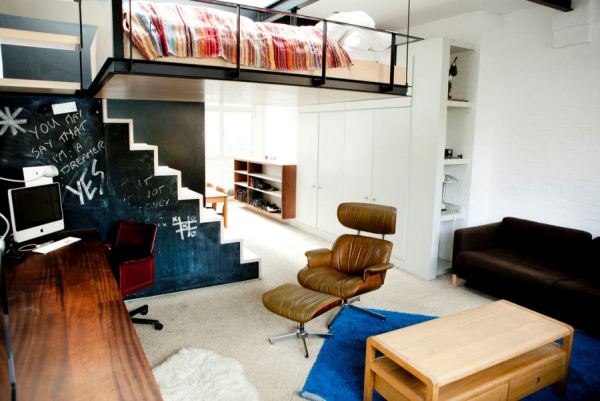 All inches of the apartment have been given a purpose. The before-mentioned staircase doubles as a blackboard, right next to the office corner. The double closet has a bookshelf side oriented to the big simple sofa. A lounger was placed in the middle of the room to hint at the economy of space made. This concept is found throughout the house.
The minimalistic look of the white painted and wood decorated kitchen is contrasted by the open bathroom area. Sharing the same floor with the dining table, a classic white and black bathtub is just a curtain away from the salt and shaker, and one small step of distance from a simple yet big shoe rack. A bright blue half-wall separates the creativity of this area from the ingenuity of the main living room. It's definitely one of those designs that you wish you could apply to your home right away.