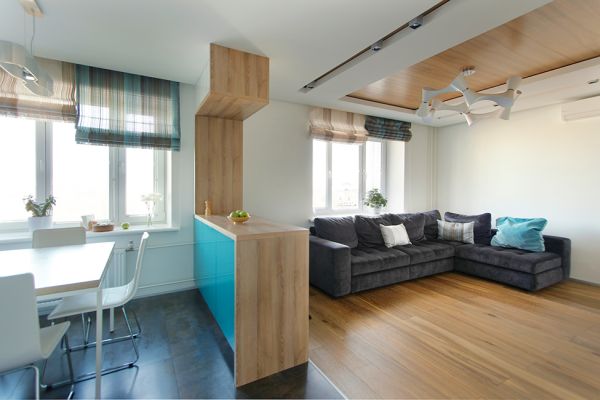 Russia is hardly the place you associate with coziness and warmth. But when it comes to homes, this apartment is designed form comfort. The bold color palette blends with the minimalist approach to welcome inhabitants and guests alike.
The large living area includes the kitchen and living room, with the dining table separated only by a sleek wooden bar. Blending functionality with comfort, the Moscow apartment uses wood, stone and reflective materials to give room for light to warm the 100 square meters area.
ZE Workroom Studio managed to brighten the residence with a clever use of modern furniture and dynamic design, making good impression on the client requesting storage as well as the feeling of cozy when experiencing the house. The designers took the challenge a bit further and overcame themselves with the interesting bathroom area and minimalist touch to the open living area.