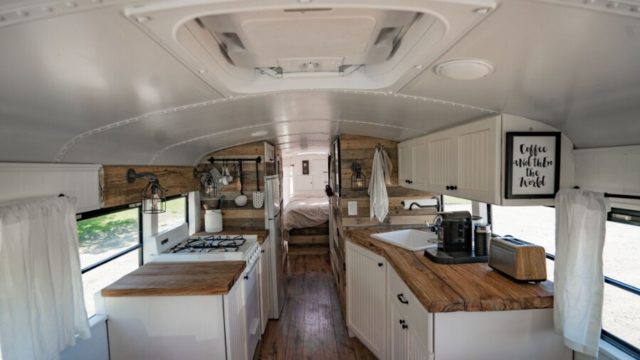 A school bus turned into a loft. It sounds impossible at first, but if tiny house enthusiasts know one thing, it surely is that almost anything can be turned into a home. So, a house in wheels doesn't sound like a bad idea especially if you love to travel and would like to have the freedom to move anywhere in the world.
Felix Starck and Selima Taibi from Expedition Happiness purchased a 20-year-old school bus online and turned it into their own tiny house. The couple lives in Germany, but once they found the bus in a location in the USA, they took the first plane and invested in their life-long dream.
They converted the back of the bus into a cozy little bedroom, the front of the bus into a living/dining area and the middle of the bus serves as the kitchen. Although the space is tiny, it has a dreamy and very cozy atmosphere, thanks to the use of natural colors and warm lights. There is also a very small bathroom, but it is more than enough for a young couple.
The best feature of the tiny house is that it can be moved anywhere, so the owners can enjoy breathtaking views of mountains, the seaside or forests.
More ideas: