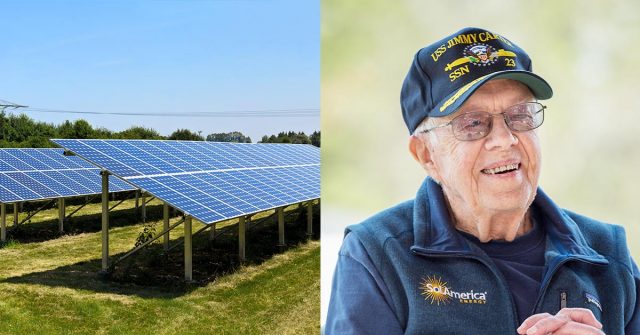 Jimmy Carter is well-known for his acts of goodwill and being an active citizen in his community. The former President of the United States has tackled another project recently, by contributing to the building of a solar farm in Plains, Georgia.
The 10 acres of land on which the farm was built is Jimmy Carter's property and the first drafts of the project were created in 2017. The land now hosts 3,852 solar panels and was formerly a place for growing soybean crops. Carter's interest in renewable energy was present even during his presidency when he made history by installing 32 thermal solar panels on the White House's rooftop.
The panels from the solar farm in Georgia generate 1.3 MW of power per year and this energy can power half of Plains, Georgia. To make his dream come true, Carter got help from SolAmerica, an energy company from Atlanta, and managed to reduce the living costs of Plains' residents.
This is such a great example of philanthropy and how powerful people can use their assets to do great things in their community.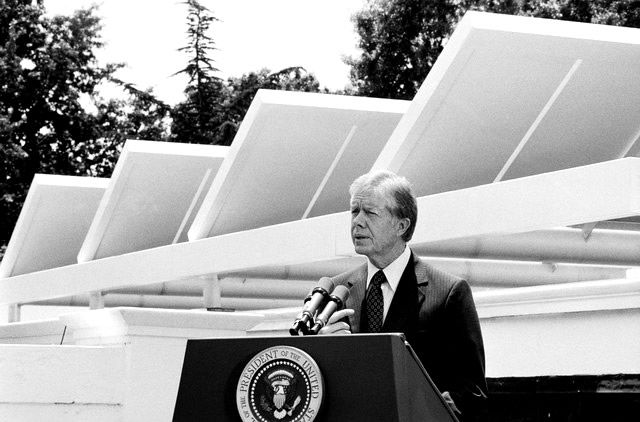 Jimmy Carter was the first United States President to Install Solar Panels on the White House in 1979. via Carter Library
President George Bush also installed solar panels at the white house during his presidency. Subsequently, President Barack Obama had solar panels installed as well. In 2014, Obama reinstated a 6.3-kilowatt array of solar panels on the White House roof.
Former United States President Jimmy Carter places a hand on one of the 1979 White House Solar Panels. via Carter Library
"A generation from now, this solar heater can either be a curiosity, a museum piece, an example of a road not taken or it can be a small part of one of the greatest and most exciting adventures ever undertaken by the American people; harnessing the power of the sun to enrich our lives as we move away from our crippling dependence on foreign oil."

Former U.S. President Jimmy Carter
Carters Solar Farm Provides Power For Many
As we said earlier, his solar farm holds 8 852 solar panels. Consequently, these panels generate 1.3 MW of power each year. This power provides electricity for 50% of the small Georgian town! A particularly significant feat!
3,852 Solar panels generates 1.3 MW of power per year and provide electricity for over 50% of Plains, Georgia.
"Distributed, clean energy generation is critical to meeting growing energy needs around the world while fighting the effects of climate change. I am encouraged by the tremendous progress that solar and other clean energy solutions have made in recent years and expect those trends to continue."

Former U.S. President Jimmy Carter