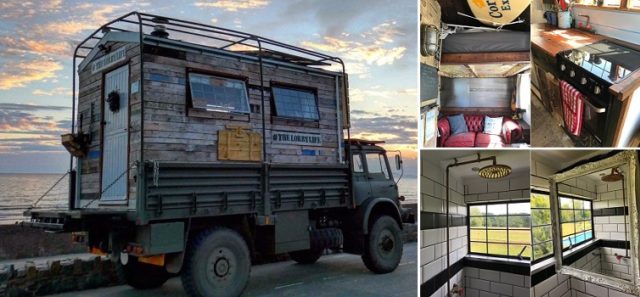 If you're tired of living a life in a big and crowded city, then going off the grid and living on the road might be the way to go. You can get inspired by this cool home on wheels, a 1982 Bedford MJ ex-army lorry turned into a house.
The entire project took one year to be ready and according to its owner, he's been living in it for 9 months now. The most satisfying part of owning a house on wheels is that you can move around a lot and travel the world whenever you feel like. This gives you a great amount of freedom, so if you feel adventurous then it might be the ideal way of life for you.
The inside of the lorry is big enough for 2 people to travel the world in a comfortably, and it is equipped with everything you might need, from a kitchen, to a shower and a tiny upstairs loft.
So, if you want to have your own lorry home, you can always purchase a ready-made one or if you are handy enough, try to transform the vehicle into a home yourself.