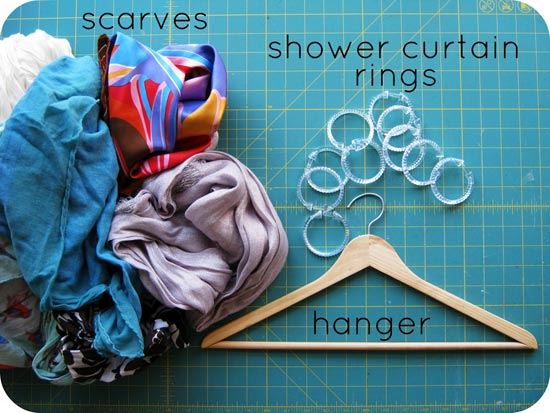 Did you ever find yourself in a situation when you needed one particular scarf but you couldn't find it in your big drawer? Or your closet was too small or too dark for your scarves to be arranged in a findable manner? With these 7 DIY scarf organizers you won't run out of time or ideas when you think about fashioning one for yourself.
Try the hanging wall made out of shower curtain rings covered in material and attached to a similarly covered normal hanger. If you think this is a lot of trouble, just use a one-piece wide hanger instead and drill some holes in it. Place for 8 scarves guaranteed. Have an old wooden ladder you don't use? Or maybe a small fence from the front yard. Simply recondition it and place on wall? This way you have extra-room for thicker types of scarves.
There are many ways you can use creativity to make your own scarf organizer. Try the more complex ideas or use some simple ways as laundry pliers pinning the scarves to a metal hanger. Your imagination is the only limit. Check out these ideas.