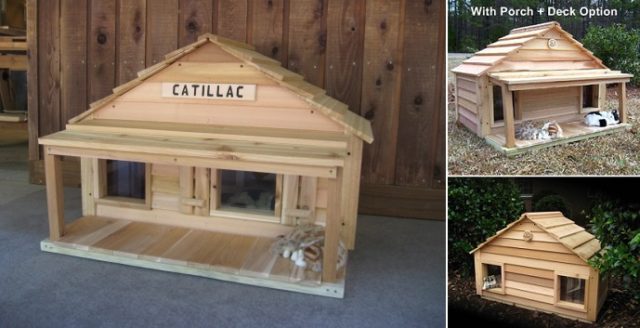 This outdoor cat cottage duplex, provide an excellent and protective shelter for your cats, and help keep them warm in cold winter weather, and are made from eco-friendly materials. Many of outdoor cat houses are beautifully handcrafted from Western red cedar, and can be insulated if you live in a cold weather area for added protection for your pet. Unlike plastic houses, wood pet houses are cool in the summer and warm in the winter. For multiple cat owners, this duplex cat house is a perfect fit.
Each cat house comes with heavy duty vinyl flap doors, installed. The duplex house has a slide in center partician that can easily be removed if so desired. Each house comes with vinyl doors. If you think it looks good in the picture…wait until you see it in your back yard!
This product is manufactured by Blythe Wood Works ( a family-owned and operated business in South Carolina that began in 1990, out of a need for a quality wood dog house ).