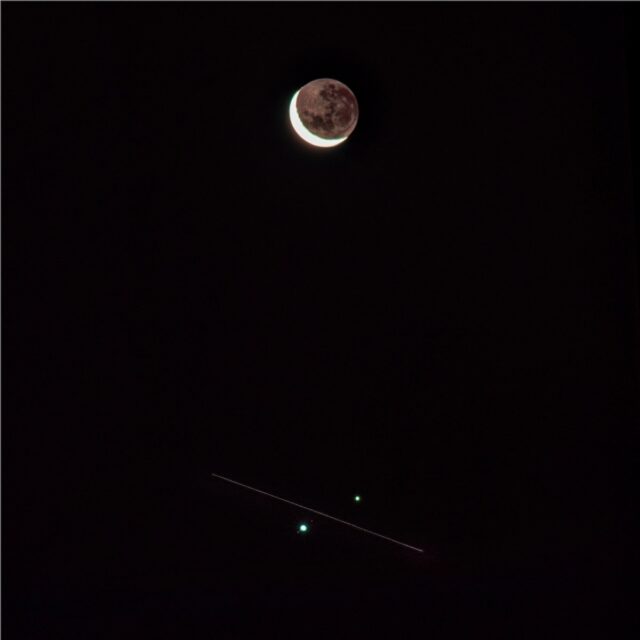 Last week's Great Conjunction was an amazing astronomical event and represents a unique occasion when Jupiter and Saturn appear to be the closest to each other.
It took place on the 21st of December, and the last time something similar to this happened was way back in the 13th century. That's why photographers around the world have kept their eyes open and cameras alert for this amazing moment, and hoped to capture it on camera to make history.
One lucky and creative photographer from New South Wales, Australia had a great idea. Jason de Freitas studied the situation carefully and figured out that International Space Station will appear right between the two planets if you're viewing the night sky from the right angle.
The result of his planning is a stunning image of the ISS crossing the space between Jupiter and Saturn. But Freitas needed thorough planning to not miss this moment and traveled an hour until he found the right spot and angle for his picture. Using a Pentax 67 with a Takumar 600mm f/4 lens and a roll of Fujifilm Provia 100f, plus timing his camera precisely led to the breathtaking photo that is now posted on his Instagram account.
You can follow him for the entire story and background info, but also more useful tips and tricks for analog photographers.
"Probably the most unique shot I've ever taken. I had the incredible luck of figuring out I could see the path of the International Space Station travelling through the Jupiter-Saturn conjuction. After much planning and scrambling I had to drive an hour (quite a short distance in the scheme of things) to align the shot perfectly and somehow everything on the night worked out. Beyond thrilled with this one."
Taken on the 17th of December, 2020 at precisely 21:53:05 for 10 seconds.
Location: Jellore Lookout, Mittagong
NSW, Australia.
Photographed by Jason De Freita