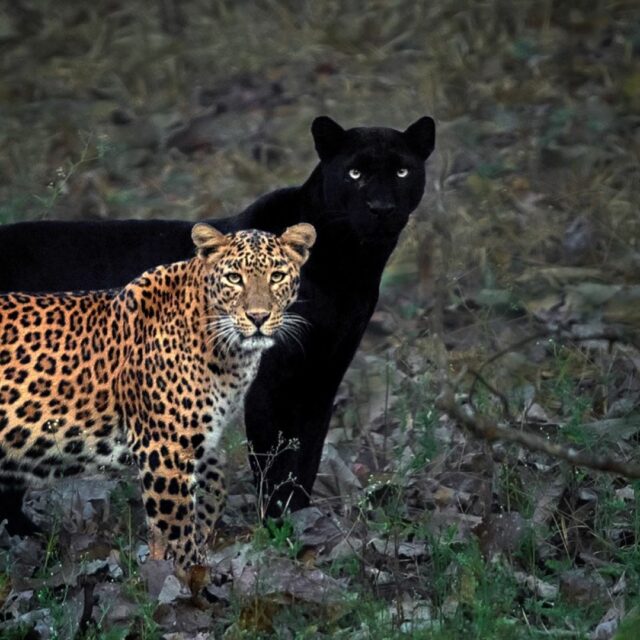 Wildlife photographers are lucky to witness the beauty of nature up close, and Mithun H has an interest in big cats and explores this topic in his work. He recently encountered a beautiful leopard and his panther companion in Kabini Forest Reserve in Karnataka, India.
Saaya and Cleopatra, as the two felines are called, have been a couple for 4 years, but Mithun has been following their life since 2009. He first encountered Cleopatra when she was only a cub and almost 12 years have passed since he first spotted her.
The latest picture he took of the couple is the result of a long 6 days wait in the same spot until the two appeared before his eyes after making a kill. After they finished their meal, they both turned their heads towards Mithun and he snapped the most amazing picture, while the big cats were staring directly into the camera. Over the years, he managed to gather an impressive collection of pictures featuring Saaya and Cleopatra and they can be seen on his Facebook and Instagram pages.
How to Take Good Photos of Nature
Nature photography is a fun and fulfilling hobby, but it can sometimes be difficult to capture great images. If you want to improve the quality of the nature photos you take, start by composing a great scene to photograph. Douglass Owen shares his expertise as a nature photographer, teacher, and ranger for the National Park Service. In this guide, readers everywhere can take advantage of the same training and master the field craft that enables top photographers to great wildlife shots―even with modest gear. In fact, Doug's approach actually favors those with simple equipment that frees them to concentrate on the subject and environment rather than fiddling with complex camera settings!