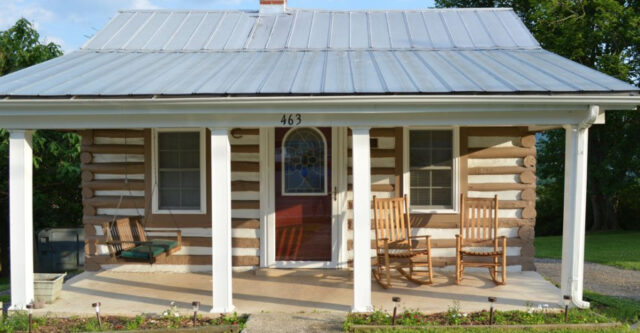 An important aspect of a log cabin is its location and surroundings. The most perfect log cabins will blend beautifully with the surroundings and are usually in the middle of nature.
This adorable log cabin is called The Squirrels Nest and is located near the James River in Buchanan, Virginia. The house was built to be used as a vacation home and it can be rented for a maximum of 6 people.
The Nest is comprised of 3 bedrooms and 2 bathrooms, a living room with a large TV, and a fully equipped kitchen. The best part of the house is the picnic area outdoors, which is very close to the river and can offer a unique experience of dining under the stars.
If you want to wander around, the Nest is close to many local attractions, such as The Natural Bridge, antique shops, and markets and you can even enjoy activities such as fishing and canoeing. This can be a great place to spend a few nights away from the noise of the city and recharge your batteries.
Check availability here…