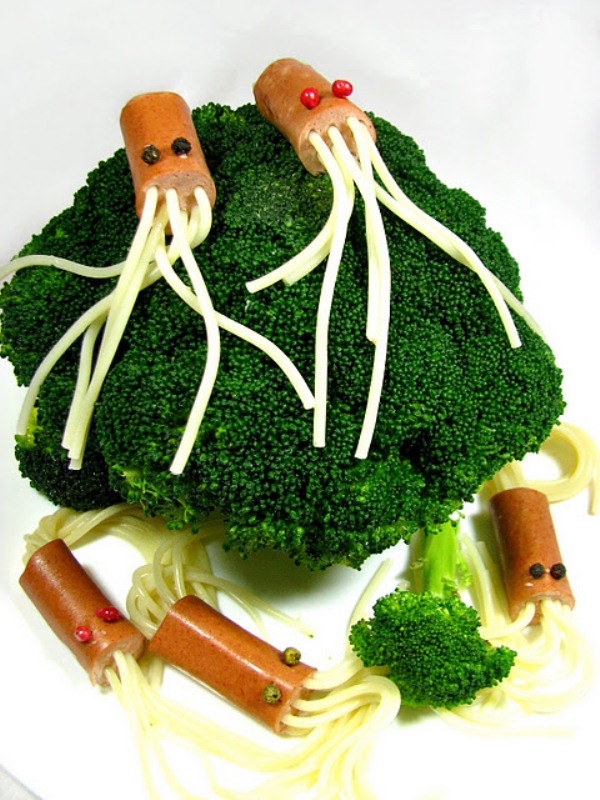 Here's a quick and creative recipe idea – with a bit of fun if you've got young children. Tinned frankfurter and pasta octopi. If you poach them gently in stock, the sausages keep their flavour while the pasta cooks. Also, with a little imagination and a little help from children you can create monsters tossed in a little red pesto with some grated cheese, such as octopus and other funny creatures.
Ingredients:
1 package of hot dogs, any kind, preferably one without nitrates
1 package of spaghetti noodles, preferably whole wheat or multi-grain
1 cup of spaghetti sauce, jarred or homemade
Directions:
Fill a large pot with water. Add a pinch of salt and bring the water to a boil.
Slice each hot dog into 6 or 8 pieces. If serving to toddlers, first slice the hot dog lengthwise to reduce the risk of choking.
Skewer each hot dog piece with 4 pieces of uncooked spaghetti. Center the hot dog on the pasta strands, as pictured below. Children could help with this step.
When the water is boiling, cook the Octo-Dogs according to the pasta package directions.
Gently warm the spaghetti sauce on the stove top or in the microwave.
Drain and rinse the Octo-Dogs with lukewarm water to prevent sticking.
Serve warm with pasta sauce on the side for dipping.