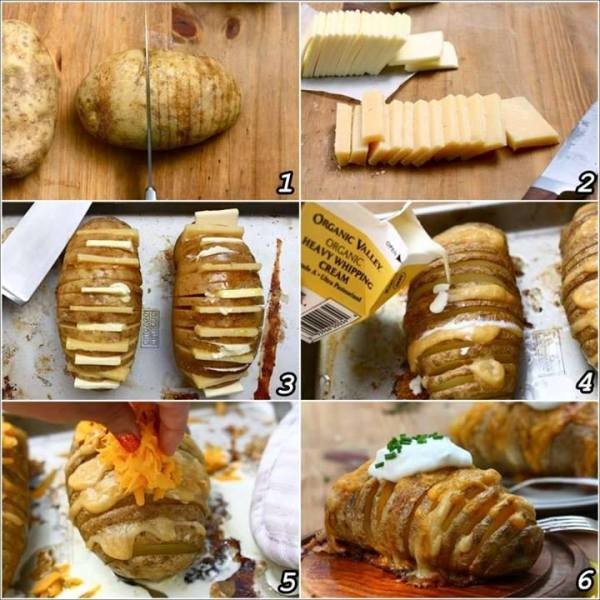 More often, we need a quick way to make a delicious dinner when we finish running around the city all day long. And if you're not a fan of the artificial frozen-dinners, you will love this recipe of scalloped Hasselback potatoes. A couple of minutes of preparation, about an hour to bake and in 5 easy steps, you'll be feasting on a delicious dish. You will need:
• a few potatoes;
• cheese (like Parmigiano-Reggiano);
• butter;
• shredded cheddar;
• olive oil;
• organic heavy whipping cream;
Step 1: Scrub the potatoes clean. Use a knife to cut a few slices across each potato. Don't cut them into full slices, rather make little pockets.
Step 2: Using a pack of butter straight from the refrigerator (so it isn't soft and melted), cut little pieces, just like in the images. Apply the same technique to the Parmigiano-Reggiano.
Step 3: Fill the pockets of the potatoes with the pieces of butter and parmesan, alternating between the two.
Step 4: Put them into a baking sheet covered pan and add some salt and pepper, according to your taste. Drizzle a little olive oil on top and bake at 400º F for 45 – 60 minutes. Check from time to time to see they don't burn.
Step 5: Pour some heavy cream, along shredded cheddar and place in the oven for an additional 10-15 minutes.
For more details and more great recipes follow the below link…