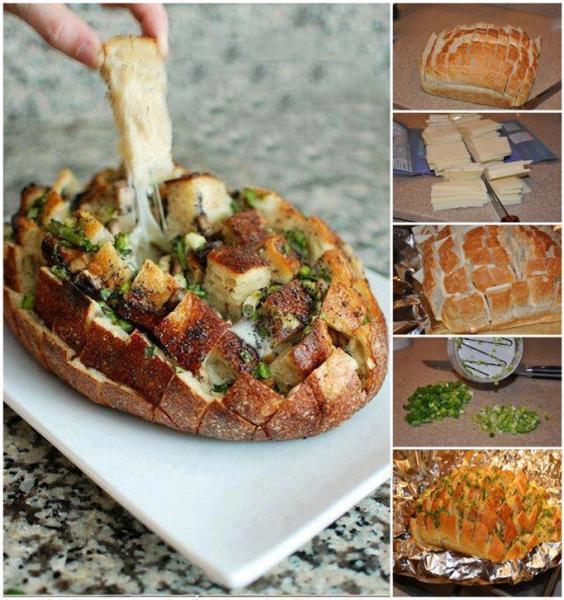 It's weekend, and this is a reason to try something special in our kitchen, for us, for friends, for guests. Mushrooms and cheese make this pull apart bread so delicious you won't be able to stop picking at it! You will need:

For the Mushrooms
12 oz sliced mushrooms
1 Tbsp butter
1 Tbsp chopped fresh thyme
For the Bread
1 unsliced loaf sourdough bread
12 ounces Provolone cheese, thinly sliced
1/2 cup butter, melted
1/2 cup finely diced green onion
2 teaspoons poppy seeds
Make it like this:
For the Mushrooms
Heat a medium skillet on medium. Add the butter. Once the butter is melted, add the mushrooms. Cook 4-5 minutes until they start to sweat. Add the thyme and continue to cook another 2-3 minutes.
Set mushrooms aside and allow to cool.
For the Bread
Preheat oven to 350 degrees.
Cut the bread lengthwise and width-wise without cutting through the bottom crust. This can be a little tricky going the second way but the bread is very forgiving.
Place loaf on a foil-lined baking sheet.
Insert cheese slices between cuts. Pour the mushrooms between the cuts. Use your fingers to push the mushrooms down into the loaf.
Combine butter, onion, and poppy seeds. Drizzle over bread. Wrap in foil; place on a baking sheet.
Bake at 350 degrees for 15 minutes.
Unwrap the bread and bake 10 more minutes, or until cheese is melted.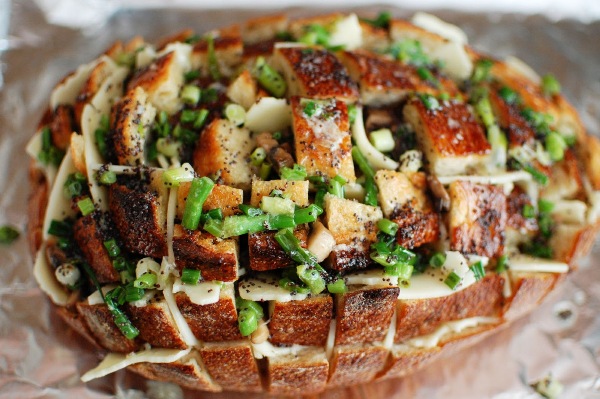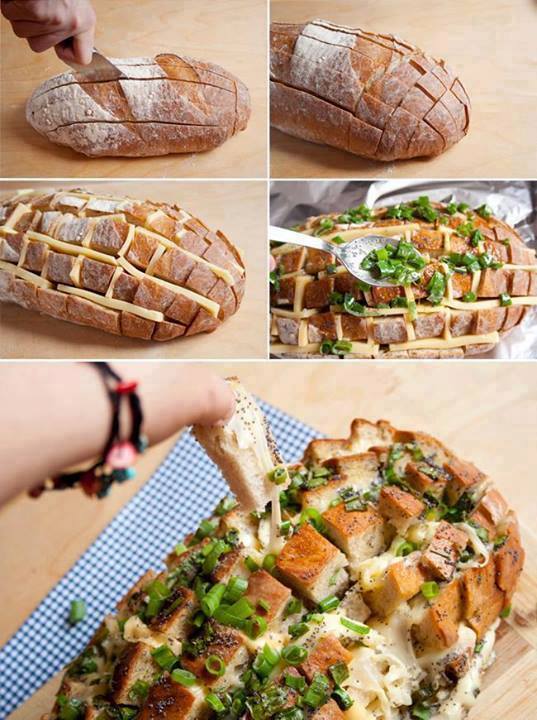 source: jemcoumiem.pl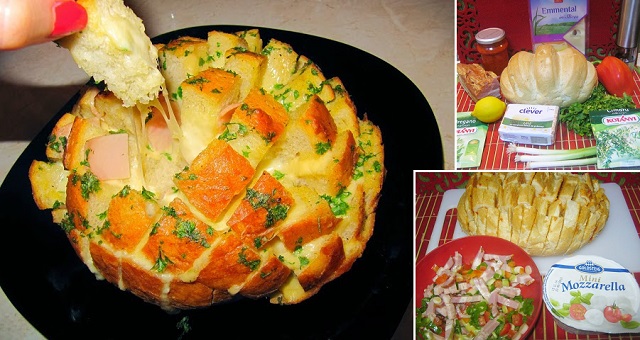 source: Sidy's Kitchen