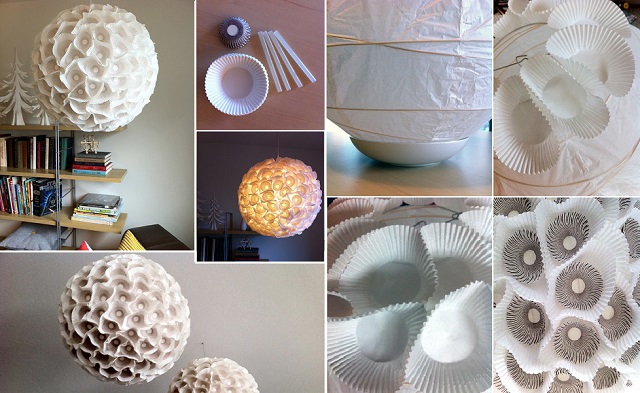 Do you know those beautiful paper ornaments and lights you can buy from decoration stores? They look so nice when hanged all around your room or in your garden. So why spend money when you can make paper lights yourself? To make a paper orb light as those in the pictures, you will need: 120 white paper cupcake liners, 120 stripes petite fours paper, 20″ paper lantern (white), glue gun, one cord for lighting. Build the lantern and use a bowl to help you in the process. Glue the cupcake liners together as shown in the pictures and also glue the striped paper inside of each cupcake liner. Place a light bulb inside the lantern and attach the light to the ceiling using the cord. This is a really nice idea to try if you are having a garden party and need lots of lights to build a cozy atmosphere, or simply decorate your room with such a beautiful paper sculpture.
Materials:
100–125 white standard-sized paper cupcake liners
100–125 vertically striped petit fours papers
(1) 18–20″ white paper lantern hot glue gun
1 Hemma Cord (for lighting)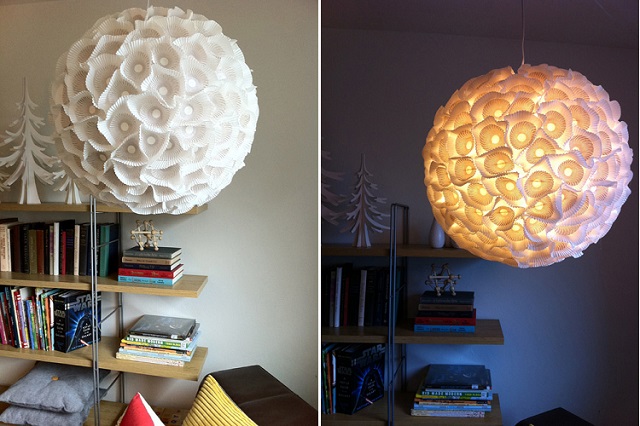 Sculptural Paper Orb Lights Instructions – Design Sponge
RECOMMENDED FOR YOU….