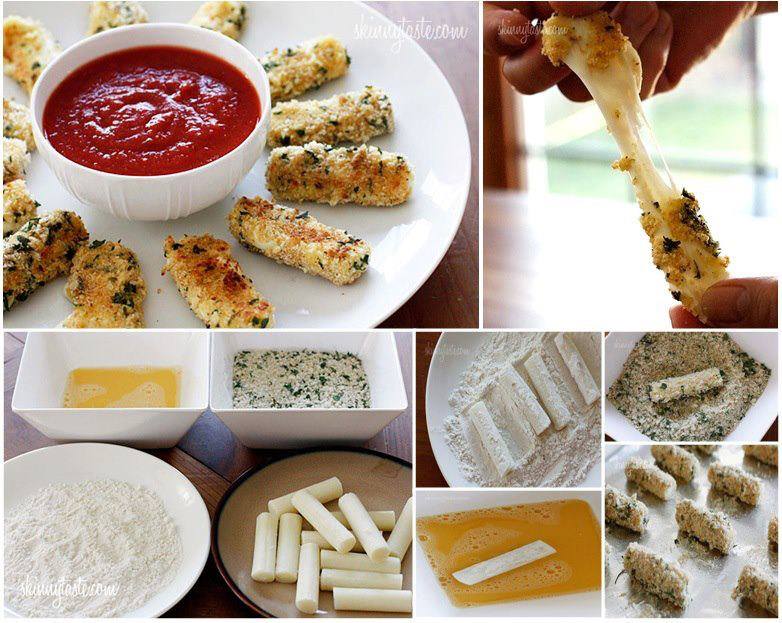 When it comes to entertaining guests at a party or event, as the host you have a lot of responsibilities, beginning from the interior design of the rooms and ending to the seating and food on the table. For the last part we have a delicious suggestion: skinny baked mozzarella sticks. These bite-size snacks are so tasty you might want to make a couple of plates just to make sure people aren't craving for more right in the middle of your event. In order to make this recipe, you will need the following ingredients:
• flour;
• breadcrumbs;
• Mozzarella cheese;
• Parmesan cheese;
• large eggs;
• parsley;
• tomato sauce;
The procedure is rather simple and you will be done with making a batch of these tasty snacks in a matter of minutes. Start by pouring 2 tablespoons of flour on a large plate. Then, mix 1 tablespoon of parsley with 5 tablespoons of breadcrumbs and 2 tablespoons of Parmesan. Beat the egg in another bowl and dip the freshly frozen Mozzarella sticks (maybe cut them to smaller sizes) in it, not before you already rolled them through the flour. Next, cover the stick with the contents from the bowl of crumbs. Do the same for all of your Mozzarella cheese sticks while you preheat the oven to 400 degrees Fahrenheit. Place them on an aluminum foil pan, sprinkle some oil on top, and bake for 5 to 10 minutes just until they don't melt. Enjoy!
source and more details: skinnytaste.com