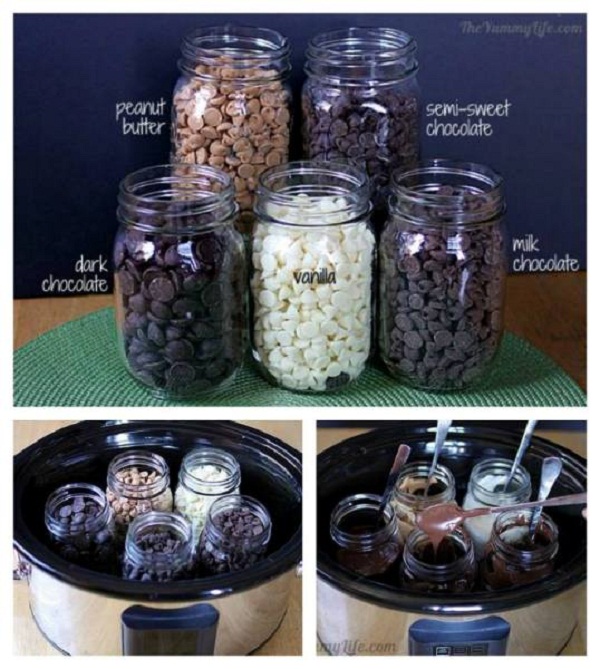 Desserts can be harder and harder to make, especially if your `clients` are teenagers. Their taste buds have had a lot of training throughout the years, with all sorts of industrial candy bars and sweets hammering at their disposal. So, you can fight the past habits or you can use them to impress your acquaintances. The solution is making melted chocolate from all the sweets you fancy. The necessary materials are:
• various flavors baking chips;
• chocolate bars, chunks, pellets (and other melting chocolate available in sweets);
• a slow cooker (of course);
• mason jars work or other heat tolerant bowls (make sure they fit inside the slow cooker);
• stirring spoons;
• drizzling spoons;
Start by putting the chips and any other melting chocolate in your jars or bowls and set them inside the slow cooker, leaving some space between the units if using many.
Fill the cooker with hot water half way up the sides of the jars. These should be left open, so make sure you're not pouring any water in them. Then, turn it on high setting and leave it uncovered to heat for about 30 minutes. With the help of a spoon stir the chips and if the compositions aren't completely melted, continue the cooking process until all melt when you check by stirring.
After this, turn the slow cooker to a low setting. Carefully remove each of the jars from the cooker and serve. Remember that the thin, melted consistency of the chocolate will last for at least 2 hours, so if you plan to have a late snack, don't! It will leave everyone with a bad taste and a disgusting memory. The chocolate is ready for pouring or dipping after a few minutes you turn the cooker to a slower heat setting. Enjoy!
Photo Credit: theyummylife.com