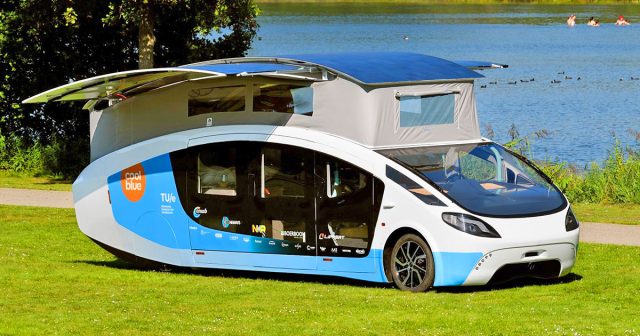 More and more people are looking for eco-friendly ways to travel and try to reduce their carbon footprint. If you're looking for a vehicle that is environmentally friendly and will also take you to every corner of the world, then this solar-powered camper might be your next big investment.
The camper van is called Stella Vita, and it is the brainchild of students from the Eindhoven University of Technology. The design of the van is very clean, resembling a teardrop and the large roof was created specifically to capture as much sunlight as it can with its solar panel.
The Stella Vita camper is 100% eco-friendly and comes with additional solar panels (a total number of 57) that can be extended on the vehicle's sides. The roof of the van can also be elevated to create more inside space for the owner. All the devices inside the Stella Vita can be charged with solar power, and the interior is equipped with a small fridge, toilet, coffee maker, and TV.
The Stella Vita camper has an autonomy of 450 miles and the students from Eindhoven University are planning a trip to Spain with the camper to showcase their amazing design.