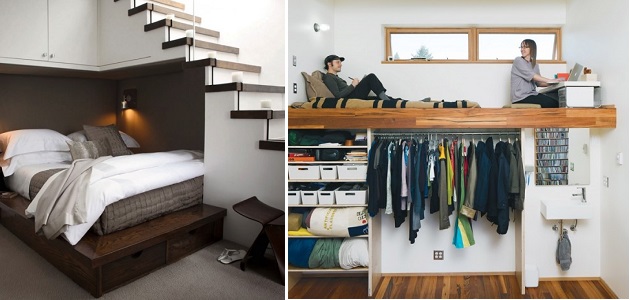 Space can be a big issue in a lot of home, that's finding space saving methods is an important step when designing your loft. There are a lot of possibilities to create extra storage units and space for your things and these ideas can be approached both from a traditional and a modern way. Below you will find a selection of the best space saving ideas when it comes to beds and bedrooms. If you have a staircase that leads to another area, then filling the space below the staircase would be a great idea. You can place a bed there and make use of the great amount of space below the stairs. Don't worry if your bed doesn't fit there from the start ad you can custom make one. These under-stair spaces are also a great place to relax and read a book.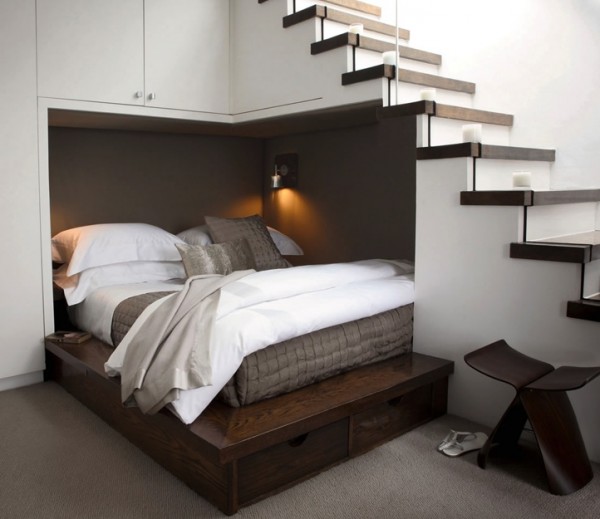 If you have a staircase in the center of the room, you can choose some type of furniture that will let you save extra space, such as bunk beds. Bunk beds are also great as you can extend vertically and occupy that space, and you can separate the two beds by using one for your daily activities and one for sleeping.
Placing a bed in an upper space can be highly practical as you can use the space below the bed to store other things, such as your clothes by creating a drawer. You can also install cubes under the bed and store your books and small decorations inside them. A very modern and sophisticated idea is hanging your bed from the ceiling and create a separate area there. This way your guest won't even notice where your bed is and you will have a lot of space for creating a dining area for instance.