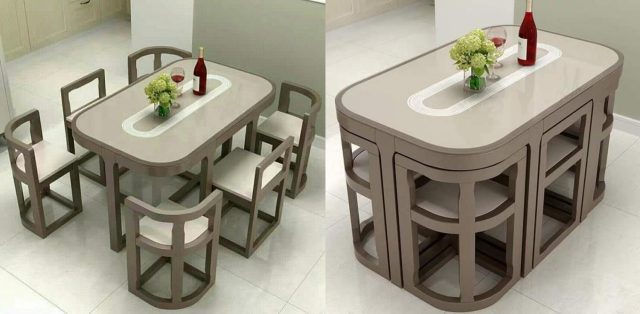 Tiny homes are great as they are affordable for every pocket, but one downside of them is that they have limited storage space. So when furnishing a tiny house, you have to be very careful to not overcrowd it and keep it as neat as possible.
So for these tiny spaces, a modular type of furniture would be the best choice, as you can arrange in it pieces just like a puzzle and save a lot of essential indoor space.
These tuck under dining tables would be just one of the pieces that you could be adding to your small house, and they come in two options: 4 chair and 6 chair ones.
The best finishing from a design perspective is the table's rounded edges which makes them very compact and adaptable to any corner of your house. The chairs can be inserted directly into the table and their edges fit smoothly just underneath the countertop of the table. The table can also be ordered in several layouts, from a circular table top to a rectangle one.