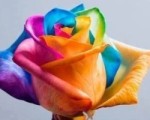 So here is a great idea: create your own rainbow roses. It may not work out perfectly for the first time, but it is worth trying. You will need some food coloring, scissors, white roses and some patience. The first step is to decide how many roses you want to color as you will be ...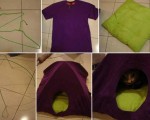 I found a great idea for cat lovers, how to make a cat tent in 3 steps. It's easy, and no cutting or sewing machine. All you need is an old T shirt and two hangers as in image.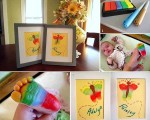 I just saw this great DIY idea on Facebook, simple and beautiful. Can be a beautiful memory when kids grow up and would make an awesome gift/keepsake for any Mom, grandma, grandpa, etc. To do this you need a paper, multi colored stamp pad or paints (non-toxic), picture frame. Also ...