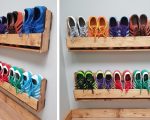 These simple shoe racks have transformed our entryway in such a good way! These shoes racks can be layered or simple used alone to store all of your families shoes.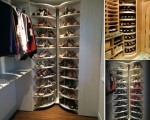 Lazy Lee Shoe Rack – A Woman's Dream, A Man's Nightmare! A spinning shoe rack holds up to 226 PAIRS of shoes..WOW.. A closet is one's is an indispensable piece. Sometimes finding the right space to create a closet can be a real challenge, but many of architects ...
I found a great way to storage your shoes to Lazy Susan. The Lazy Susan ShoeCase is the final answer for Showcasing your heels while keeping them organized and protected.The ShoeCase Displays 24 pairs, up to size 10 and as tall as 8 inches. Stacking your units will allow you to showcase ...