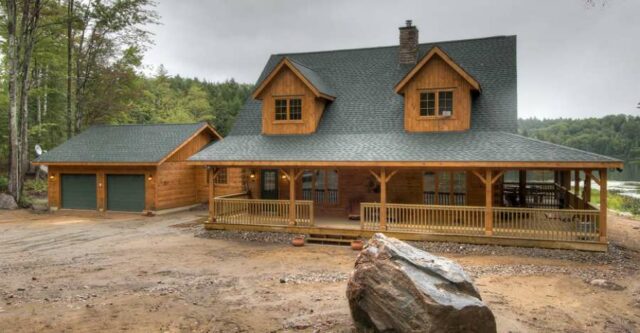 A classic log cabin, the Beaver Run is a traditional design that stands the test of time. So it's no wonder this plan is a Confederation favorite.
The Beaver Run log is a beautiful and spacious log home that is spread over 2,068 square feet and was built on two floors. The home is comprised of two bedrooms, two bathrooms and a large front porch surrounding the entire building.
There you can enjoy plenty of sunlight on summer days and have lunch with friends and family. The materials used in the construction are all high quality from the exposed timbers inside to the wooden ceilings and windows. There is also a large two-car garage near the cabin.
Stepping inside, you will find a large open space used as a living room, a dining room, and a kitchen. The lower floor also hosts a bedroom and a bathroom, so if the older members of the family can have a comfortable space for themselves without having to climb a set of stairs.
The 743 square feet upstairs area is comprised of an open loft and a bedroom. There is a beautiful stone fireplace that will catch everyone's eye and the minimal style of the interior makes this traditional log cabin look quite modern.
Thanks to its large living areas and outdoor porch, this house can be perfect as a permanent residence and not only as a vacation home. One of the living areas can be easily turned into an office or study for those who work remotely and are looking for a bit of privacy.
Free-flowing spaces abound, including a living and dining area, punctuated by plenty of natural light from front and rear-facing windows.
The kitchen also boasts a spacious island, with room for two sets of barstools. Family and friends can gather around the island to pitch in on meal prep, keep the cook company or enjoy an informal meal. The kitchen also leads to a half bath, laundry room and an attached two-car garage that makes bringing in groceries a breeze.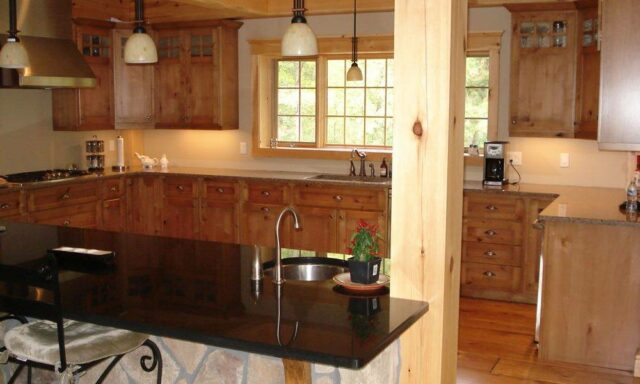 Confederation Log & Timber Frame is a great place to get inspired. Every home from their galleries has been customized to suit the property it's situated on – from mountains and lakes to beautiful trees you'll build around and sloping lots perfect for a walk-out basement.