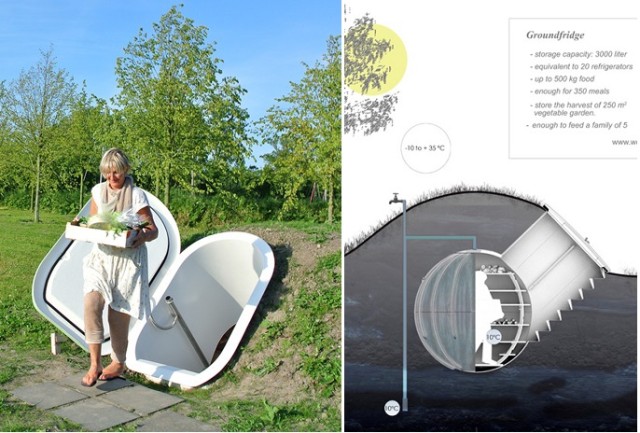 Nowadays people have become overly dependent on modern appliances and would probably find it hard to imagine that they can refrigerate food and beverages without any electrical power. Floris Schoonderbeek is a designer and entrepreneur originally from the Netherlands. He developed the Groundfridge which is an underground storage unit under his brand Weltevree. This brand also sells outdoor products such as ovens, hot tubs, and furniture.
There is an article published in The Contemporist website which gives more details about the spherically-shaped cooling unit. The whole design was inspired by the root cellar, being isolated underground, where the groundwater provides a cooling effect. The underground storage is insulated with 3.5 foot layer of excavated soil, keeping the constant annual temperature between 10 and 12° C. Basically, it's the perfect environment to store food and beverages, keeping them fresh and healthy on the wooden shelves. Another advantage is related to its volume, which is equal to twenty conventional fridges. Actually, the Groundfridge has been nominated for the Dutch Design Award in 2015, a confirmation of its quality and usefulness.
Check out the video bellow to find more about this awesome design.