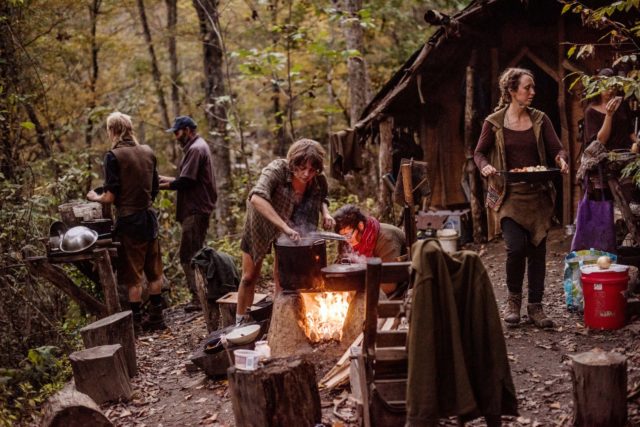 Deep in a forest in North Carolina lies a community of people who've left their jobs, given up their cell phones, and seceded. A former cybersecurity official, an engineer, a woman and her wild blue-eyed eight-year-old…the inhabitants of Wild Roots, as they call this place, are disillusioned with the ways of the modern world and react by living with, and off, the earth. They pickle bear meat, harvest chestnuts, and, during the summer, bathe naked in a nearby stream. And yet, every so often, they venture into town to check in. Are they happy? Are they lonely? And, are we living in the real world, or are they?
Wildroots is a 30-acre earthskills homestead in rural Western NC. Their focus is on experiential learning and living, while practicing, developing and sharing primitive skills for rewilding and reconnection.
At Wildroots, they live without electricity (solar or otherwise – but they have headlamps, a telephone and a truck) or plumbing.
"We carry our water in jugs, use a crosscut saw to get our wood, and practice "earthskills", or earth-based lifeways as much as possible."
Could You Live in Wildroots community? Leave a comment!