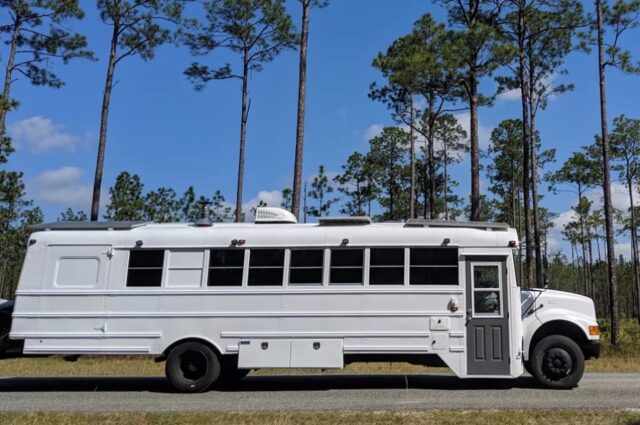 If you want a home on wheels, but don't want to compromise at space then going for an upcycled school bus would be a great option. A school bus has everything an adventurer might wish for: wheels to easily move from one place to the other and plenty of space to feel comfortable while on the road.
Transforming such a large bus into a home on wheels is not an easy process and as every mobile tiny home, they come with downsides too. For instance, fueling them might be a bit more expensive and finding the right parking space when camping, might prove to be a challenge. But in terms of space and comfort, they score very high.
This 1998 Thomas School bus was transformed by Robbie and Priscilla, a couple who loves to travel and they consider it the best investment they made so far.
The complete transformation of the bus took a year and a half, and they documented the entire process on their Going Boundless Instagram account.
Also they have a cat, Mr. Bubbles, and they wanted to create a space where they can easily bring their cat too. The upcycling of the bus was not an easy task, as many pieces needed to be replaced, such as the windows and the broken engine.
The interior of the bus was entirely redecorated, and it has beautiful cedar ceilings and an amazing kitchen, that could be easily featured in any design magazine.
There is also a bed large enough for two persons at the end of the bus and a small couch for daytime activities. The bus also includes a fully equipped bathroom with shower and brass details. To learn more about this amazing transformation, check out the pictures gallery.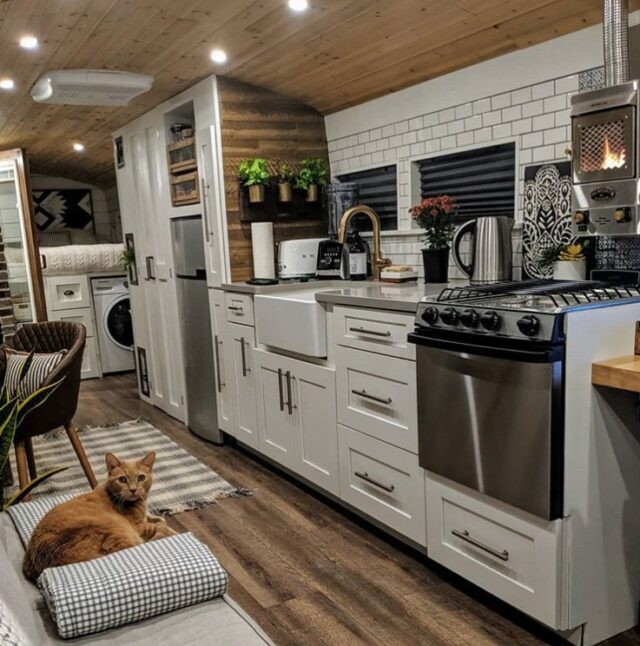 You can follow their adventures on Facebook, Instagram, or their website.