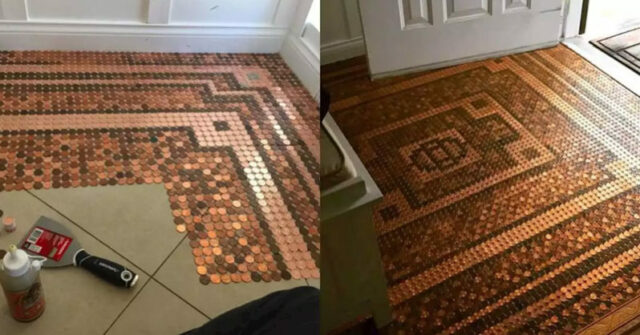 DIY projects are so creative, they just surprise you with every occasion. This very creative DIY enthusiast made an amazing floor out of 7,500 pennies and it looks stunning.
Who would have thought that a floor made of pennies can look this elegant?
The floor iitates the well-known mosaic floors which are expensive to make, so Kelly Graham who is the owner of an Etsy shop thought about reinterpreting this floor in her style.
After tattoo artist Kat von D posted a picture on social media of her penny floor, the Internet went crazy so Kelly Graham thought that she might share her floor made of pennies, too. She started working on her floor in 2015 when she remade her home's entrance and the first step of the project was to head straight to the bank and buy 7,500 pennies.
It took her 3 weeks to settle on this design and glue all the pennies in place on her six-square floor space. The finishing touch consisted of grouting it and covering the floor in a resin finish so the pennies won't deteriorate.
Her floor looks just as beautiful now as it did in 2015, all thanks to Kelly's attention to details.
by Kat Von D – I get a lotta questions about our penny floor room, the main one being "How many pennies were used to make that floor?" The answer: 28,928 pennies total!