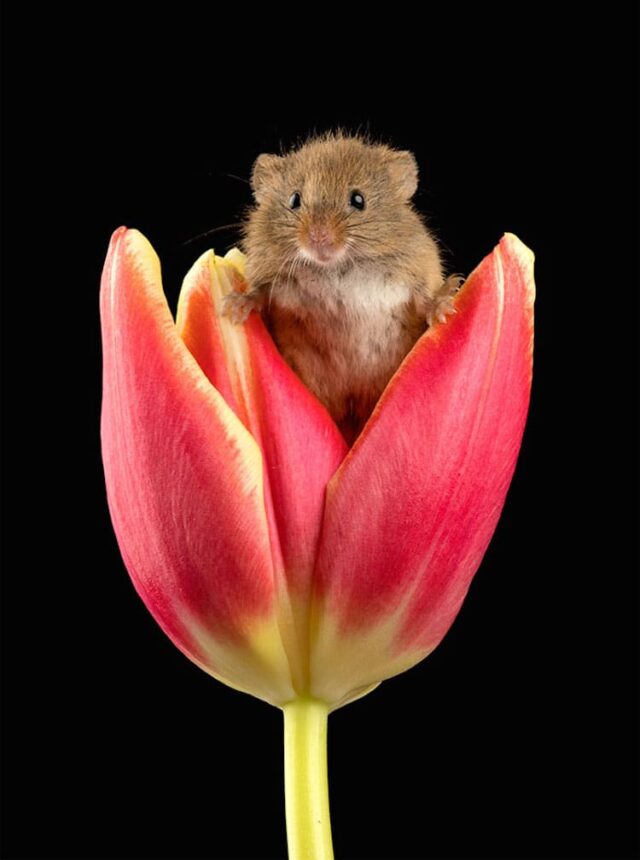 Macro photography can help bring into focus things that often escape the human eye. There are so many little things surrounding us in nature that deserve our attention, and which at a closer look will seem adorable.
It is the case of harvest mice too, and Miles Herbert is a British photographer who explores the lives of these tiny creatures. He is the owner of Captivelight, a studio that organizes photography workshops for those interested in reptiles, frogs, and other unusual animals.
The mice from his project were captured and photographed inside his studio where he recreated some elements of the outdoors. When the mice become strong enough to look after themselves, they will be released back into the wild at a local conservation area. Herbert photographed the mice inside his studio while pairing them with tulips, which are surprisingly strong enough to hold them and the results are adorable.
Because of the smell of the pollen, the mice often climb inside the flowers and even fall asleep inside. You can see more of Herbert's work on his website or by signing up for one of his one-of-a-kind workshops.
Related Articles::