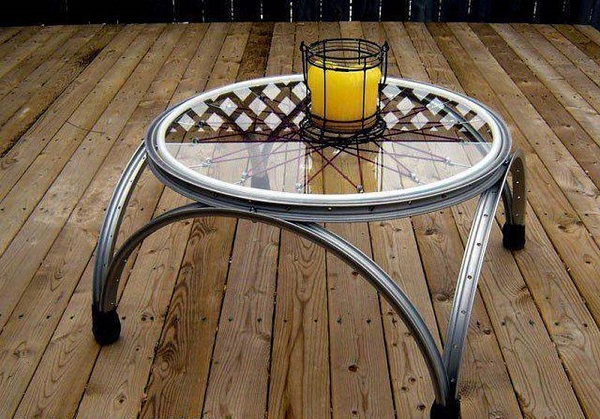 Here is a fine example of what you can achieve when you combine recycling with design. This coffee table which is constructed from re-purposed bike wheels! Bicycle rims are selected then sectioned and arranged to form the table structure. Reconfigured spokes are utilized along with colourful and strong cord to create a beautiful design simulating a wheel spoke pattern which is tensioned and secured by hand.
Supported by the spokes is a thick piece of hand cut glass reclaimed from vintage windows and edged with a light-weight and flexible plastic to allow for safe handling and care. The table feet are covered with sections of inner tube harvested from the wheel which makes for nice non-skid feet that won't scratch surfaces.
Height — 12 1/2 inches
Width/Length — 22 1/2 inches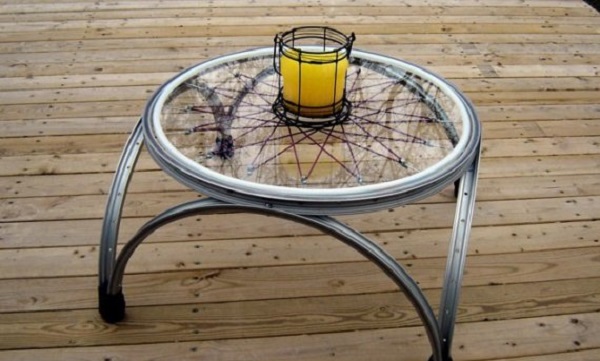 The actual build wasn't that intricate, and with a few screws and nails, you might come up with one at home. The creative piece of furniture will be a great conversation starter next time you have a guest over at your place. Invite them to have a drink on your creative terrace coffee table. The bike rim coffee table is both lightweight and sturdy. It has a generous surface area which can accommodate several drinking glasses, a candle or other centerpiece and saves the landfills for a better use. Enjoy your next cup of coffee!