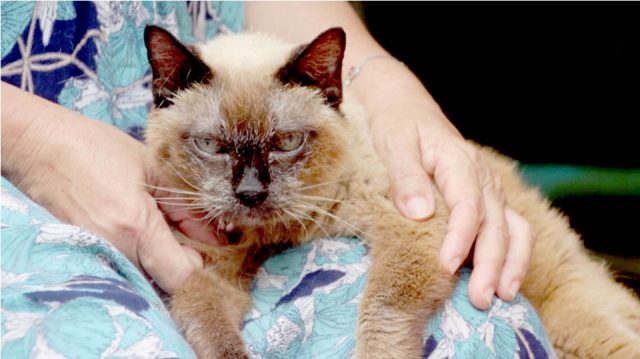 When the world's oldest cat has his birthday, even the Internet goes crazy and reports it everywhere. Wichien Maat is the oldest cat in the world, and he celebrated his 34st birthday, which is equal to 160 years in human years.
The owner of Wichien Maat is Wanna Kodkarika and she welcomed the cat into she's home for the first time in 1987.
Wanna Kodkarika's daughter was only three years old when her Siamese cat Srisawad was born in 1987. The daughter is now 37 and the feline 34.
Locals in Thailand claim that Srisawad is the oldest living cat. The oldest known cat in the world is Creme Puff from Austin, Texas, USA. This cat lived for 38 years and 3 days from 1967 to 2005. According to Wikipedia, only 6 cats in the world have a life span of more than 33 years.
The mother of this grandma Wade cat was found in front of Wanna's house in Chanthaburi in 1986. Two kittens were born a year later. One kitten died and Wade survived.